3 Best 1v1 PvP Games 2023
Fighting with AI is no fun. They are programmed and their attacks are predictable. The real fun resides in battling online with human counterparts who can go from zero to hero and from predictable to unpredictable anytime. The thrill of constant mind games and ever-changing battle tactics ensures that combats with online players never get old. Check out this list of the 3 best 1V1 PvP games in 2023 where you can break hell loose on your fellow humans!
Table of Contents
Figure 1. The Alchemist Code
Platforms: Android, iOS
Developed by
Gumi
in 2017,
The Alchemist Code
is a top-notch visually aesthetic turn-based tactical RPG video game. It is available to download for free on both the
Android PlayStore
and
iOS AppStore
.
Apart from its captivating main storyline, The Alchemist Code also supports PvP matches. In the game, you can fight against your fellow players in a stunning clash of turn-based tactical battles!
The Alchemist Code employs a grid-based combat movement system. The game makes this further strategic by taking into account the map's terrain. While battling against other players, areas having different heights and planes significantly influence fighting outcomes. Even the direction from which a character receives damage is crucial. For example, your character will take more damage than usual if hit from the back.
The Alchemist Code allows you to form a party of 4 different players in its co-op mode. The game offers a rich collection of 50+ unique characters, all possessing various sets of attributes. Moreover, the RPG video game also offers a next-level character development feature. Trying out different combinations of Elements, Jobs, and Abilities can help you form your very own customized team!
In PvP matches, The Alchemist Code is one of the best 1v1 PvP games out there where you can deploy some of the most cunning battle strategies in the game's PvP League, providing ranked matches and VS friends.
Figure 2. Guilty Gear Strive
Platforms: Arcade, PlayStation 4/5, Xbox Series X/S & One, Microsoft Windows
Arc System Works
redefined its popular
Guilty Gear Series
with its latest installment,
Guilty Gear Strive
. It is a 2021 fighting game and is available on PlayStation 4, PlayStation 5, Windows as well as Arcades.
In addition to its majestic storyline, Guilty Gear Strive also supports 1V1 PvP matches online. If you are looking for over-the-top action fighting game that delivers jaw-dropping cinematic visuals, Guilty Gear Strive is for you then! 
Although it has removed its infamous Instant Kill feature, however, it has been replaced by an equally charming "Wall Break" element. Keeping beating the hell out of your opponents while they are at the end of the screen results in a stunning cinematic transition that takes you both to another combat ground. Apart from this, Psyche Break, Roman Cancel, as well as Overdrives elements add strategic depth to traditional Guilty Gear fighting mechanics.
The fighting PvP game incorporates a compelling strong roster of 20 legendary characters with an additional 5 incoming in the game's Season 2 Pass. Among the characters, Giovanna, Nagoriyuki, Happy Chaos, and Goldlewis Dickinson are new to the game.
Guilty Gear Strive is one of the best 1v1 PvP games where even the best of the best are outsmarted by cunning tactics!
Platforms: Microsoft Windows, Android, iOS, and Mac
Shadowverse
is a love letter from
Cygames
to their fans. Shadowverse is a card duel game that appeals most to those not fans of first-person shooters or traditional fighting games. This state-of-the-art game is available for free to download on both the Android PlayStore and iOS AppStore.
The card duel in Shadowverse employs turn-based combat mechanics and also supports PvP matches online. Cygames has truly given in its best to make Shadowverse the most epic digital collectible card game.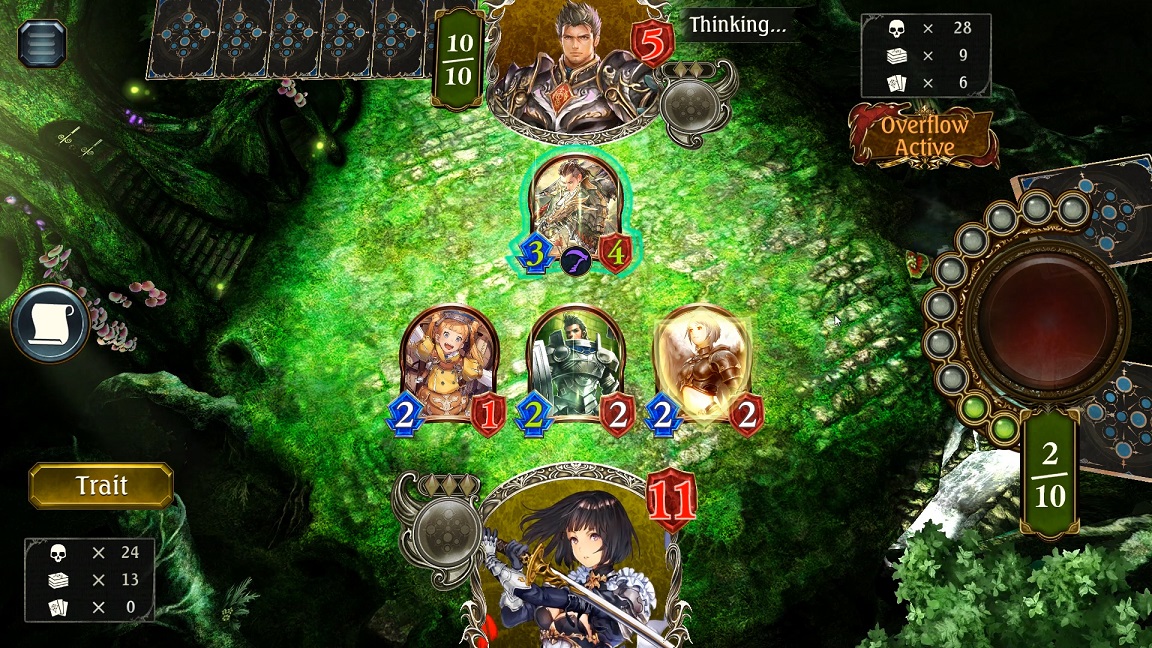 At your disposal, hundreds and hundreds of cards await your attention. Each of the cards belongs to one of the 8 unique classes in Shadowverse which further have their own set of unique cards. The 8 classes are Swordcraft, Forestcraft, Runecraft, Dragoncraft, Shadowcraft, Bloodcraft, Havencraft, and Portalcraft.
Common in all cards is the following sub-types: Followers, Spells, and Amulets. You will be using Follower cards most of the time in dealing damage to online players in the game. Spells are one-time cards and are used to grant effects in card duels. Amulets, on the other hand, provide assistive attributes.
It is never too late to join the universe of Shadowverse. Cygames adds new expansion cards after every 3 months to the game. With an ever-incoming barrage of new cards, can you be the first one to pull some of the most iconic moves in epic card duels?
You May Also Like
If you couldn't find your favorite here, You can also check the list of
best PvP games
of all time, regardless of platforms and genres. If you're specifically looking for only the list of the best PvP games of 2023, you may want to check out:
3 Best PvP Strategy Games on Android in 2023
3 Best PvP Games on PS5 in 2023
3 Best PvP Open World Games 2023
3 Best PvP Games for Low End PC in 2023
3 Best PvP RTS Games in 2023
3 Best PvP Games to Play with Friends in 2023
2 Best PvP Board Games in 2023
3 Best PvP Games of MMORPG in 2023
3 Best PvP Games on iPhone in 2023
2 Best Turn-Based PvP Games 2023
2 Best PvP Shooting Games for Android 2023
2 Best PvP Games Nintendo Switch 2023
2 Best PvP Games Free in 2023
5 Best PvP Games on Android in 2023
2 Best PvP Survival Games PC 2023
3 Best PvP Games on Oculus Quest 2 in 2023
3 Best PvP Games on PC in 2023
5 Best PvP Strategy Games 2023
3 Best Full Loot PvP Games in 2023