3 Best Anime Cafe in Japan 2023

As an anime fan, limiting yourself to watching anime only is not enough. Anime is a global phenomenon now and you should step out of your home to see it for yourself. Not only is this a great way to make like-minded friends, but it also fulfills your inner instinct to socialize.

As an anime fan myself, I understand that there aren't many places to entice us. However, the winds have started to shift in our favor. In this article, we list the three best anime cafes in Japan. If you happen to be there or soon planning to travel in the land of the rising sun, then make sure to visit these places!

Table of Contents
Figure 1-1. Gundam Cafe Outlet

Located in the Ario Hashimoto Shopping Centre in Sagamihara, Sekai Meisaku Gekijo Fan Fun Kitchen tops our chart for the best anime café in Japan. Popularly known as the Gundam Café among both local and foreign tourists, this anime café in Japan is best known for its aesthetic Gundam vibes. 

Being the first of its kind, the interior of this Gundam Café stays true to the original source. Right from the first step you take into this café, you get that same old retro-futuristic and sci-fi atmosphere feeling. You often see monitors playing clips from the Gundam anime and staff dressed in cosplay attires.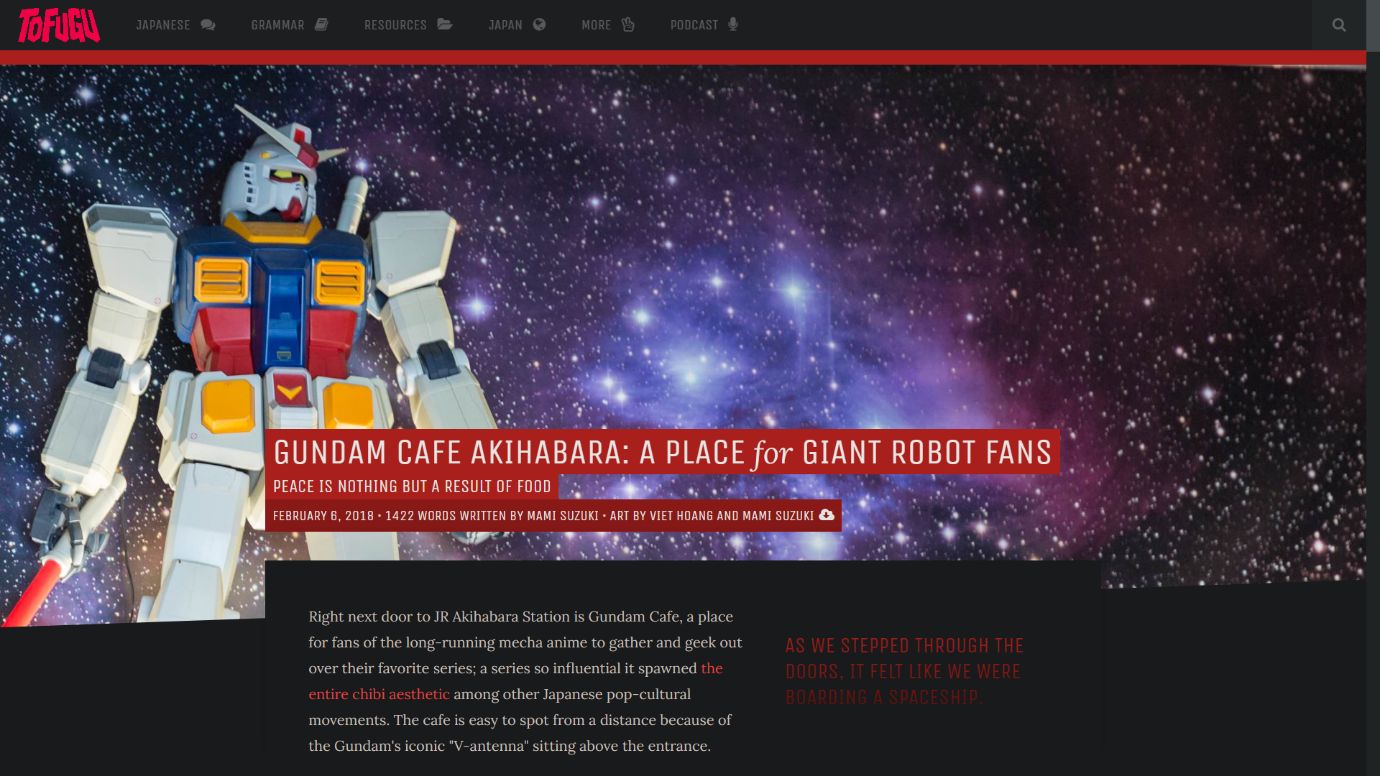 Figure 1-2. Gundam Cafe Site

But that's not all. Sekai Meisaku Gekijo Fan Fun Kitchen also delivers a unique taste in both its drinks and foods. On top of that, all the eatables are served in exclusive Gundam merchandise items such as mugs and plates. Even the food serving is stylized and inspired by the anime.

Gundam Curry, Char's Zaku Rice, and Zeon's Special Zaku II Cake are just some examples of popular dishes at this Gundam Café. It is a must-go place for any fan of the franchise and is open from 10:00 a.m. to 10:30 p.m.

Figure 2-1. Pokemon Cafe Outlet

Just like Gundam was a genre-defining mech action anime we had back in the 1980s, there was yet another, completely opposite, genre-defining adventure anime in which the ultimate job was to capture and tame wild creatures. YES, you guessed it right, we are talking about Pokémons!

With that said, meet the world's first and largest Pokémon Café located in Nihonbashi, Tokyo. Dominated with a wooden interior inside, the Pokémon anime café in Japan is a sight to behold. Everything inside is Pokémon! From kitchen cutlery and frames hanging on walls to decorative pieces and staff wearing Pokémon cosplay getups, this Pokémon café is a dream come true for every fan of the franchise.

Figure 2-2. The Pokemon Cafe Site

Some of their most popular Pikachu Plate (A plate with rice shaped like Pikachu's face, curry sauce, salad, and soup), Eevee plate (A plate with rice shaped like Eevee's face, teriyaki chicken, salad, and soup), and a Poke Ball Parfait (A parfait with vanilla ice cream, whipped cream, strawberries, and blueberries).

As such, this Pokémon anime café in Japan is a must-visit destination for any Pokémon fan looking forward to mouth-watering dishes, including drinks, inspired by their favorite Pokémon. It is open from 10:00 am to 10:30 pm.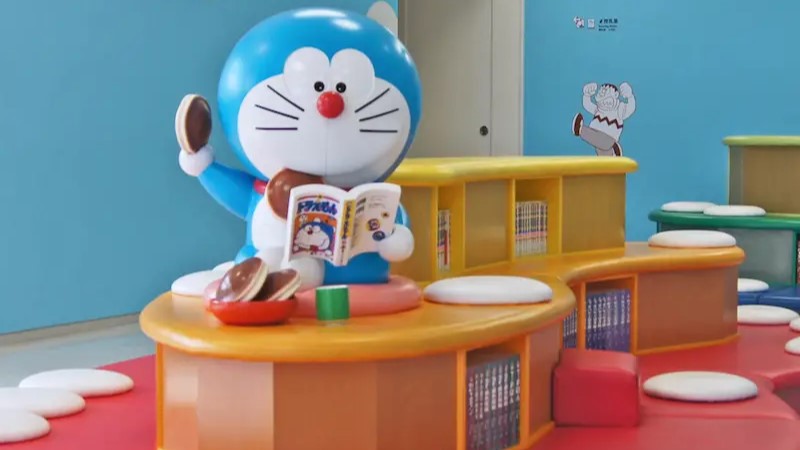 Figure 3-1. Doraemon Cafe Outlet

Just writing about this Doraemon anime café in Japan is making me want to watch it right now! That's the power of anime in our lives. They don't just influence you physically but also make you get attached to them sentimentally.

And what could be the best place than to visit the building inspired by their world? Located in Kawasaki (just on the outskirts of Tokyo), Doraemon Café is all but a small part of the big museum dedicated to the iconic cyberpunk cat that came from the 22nd century.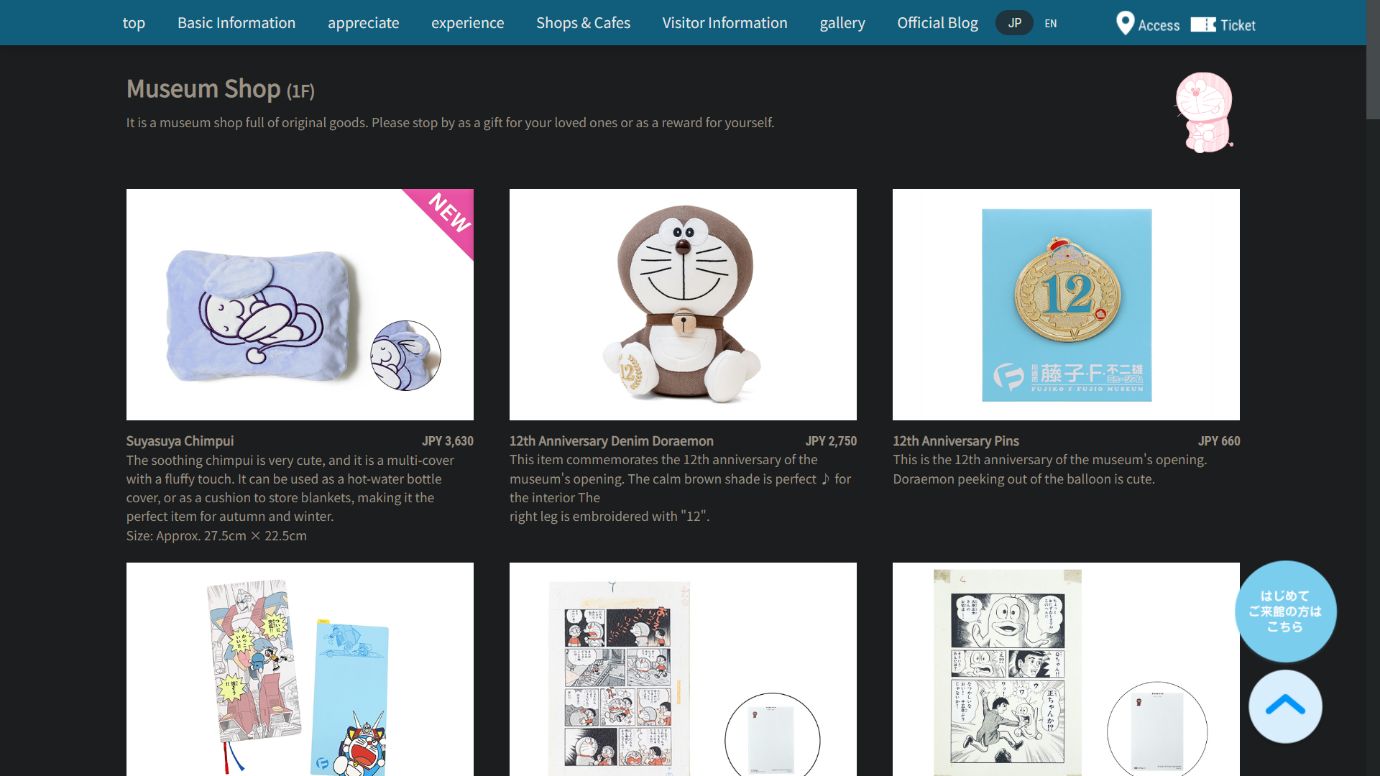 Figure 3-2. Doraemon Cafe Site

For Doraemon fans, this museum gallery is nothing short of Disneyland. You can easily get lost in its fantasy world and the Doraemon café acts as a much-needed sigh of relief where you get exploited by its big menu. Be it the Ramen noodles, Monjyaki Taste Pork Curry, or Latte Art drinks, all come with the artwork of one of your favorite Doraemon characters on it.

Opened from 10:00 a.m. to 6:00 p.m., eating out in the Doraemon Café is indeed a once-in-a-lifetime experience for fans of the franchise.

@"everyone"