BATSUGUN EXA LABEL! A Return to form for Bullet Hell Arcade Games!!!
Figure 1. BATSUGUN EXA LABEL Limited Edition

When 'BATSUGUN EXA LABEL' made its grand entrance into modern arcade gaming, it wasn't just a game release; it was a revival, a renaissance. Crafted by the pioneering members of CAVE and developed by exA-Arcadia in collaboration with original TOAPLAN staff, this title is a heartfelt homage to the bullet hell shooter genre.

Junya Inoue, also known as Joker Jun, returns as the Illustrator and Scenario Director, infusing the game with his distinct artistic vision. The soundtrack, an essential element of any immersive game, is now directed by Keishi Yonao, blending the old with the new in a symphony of arcade nostalgia. This fusion of talents creates an experience that's both fresh and familiar.

Diving into BATSUGUN EXA LABEL, the cast of characters really captures your attention. Six pilots from the Skull Hornet squadron are at your disposal, but they're more than just your typical game characters. They're the heart of the story, each bringing their flavor to the overarching tale of rebellion against a despotic ruler. And here's the cool part, their stories come to life with voices provided by some of the most iconic anime voice actors from the '90s. It's like every bullet fired and every enemy defeated is part of a larger, gripping narrative.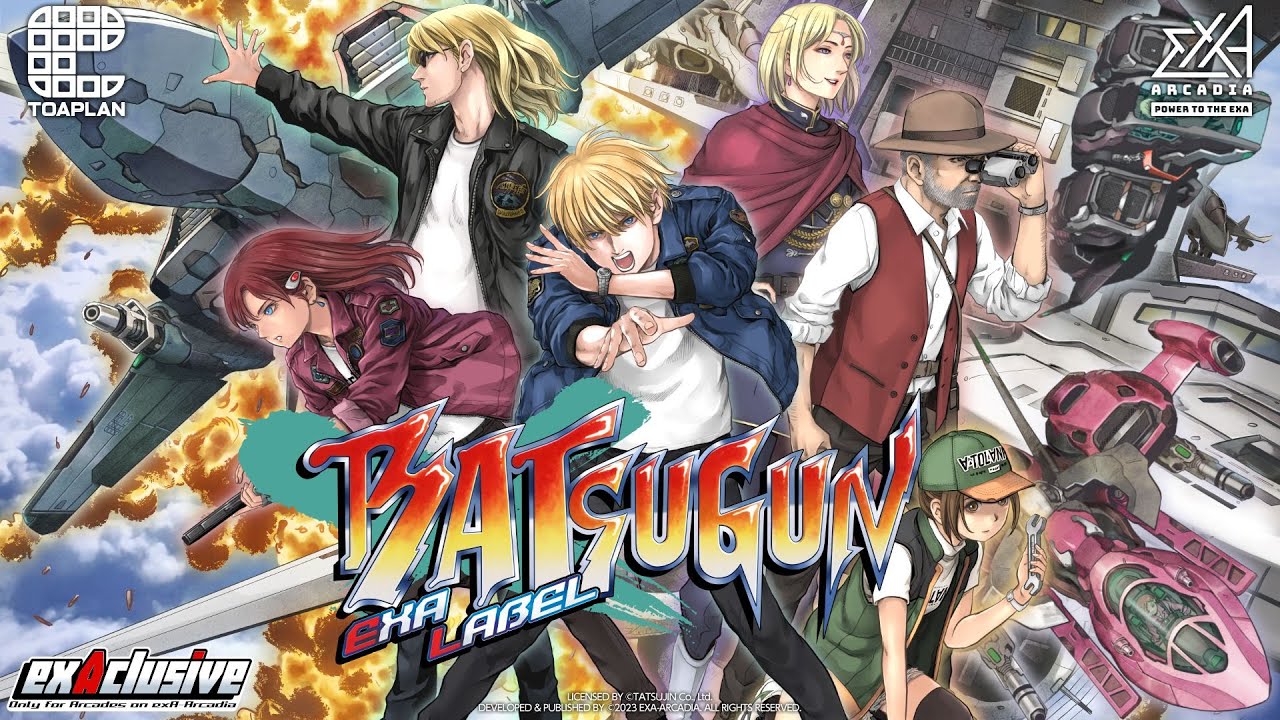 Figure 2. BATSUGUN EXA LABEL

But what sets BATSUGUN EXA LABEL apart isn't just its story; it's its sheer variety. Think of it like a buffet of gaming experiences. You've got the classic Original and Special modes, a streamlined Special' (Dash) mode, the strategic EXA LABEL mode focused on scores and bomb use, and the no-holds-barred EXA LABEL EXTREME for those who love a good challenge. It's like picking a different adventure each time you play.

Figure 3. BATSUGUN EXA LABEL Gameplay

Honestly, the moment you start playing BATSUGUN EXA LABEL, it's like the game just gets you. The controls are insanely responsive, we're talking a 1-frame input lag here. What does that mean for you and me? It's like the game is reading your mind. Every little movement, every split-second decision you make, happens in real time. No delays, no lag – just you and the game in perfect sync. It's the kind of smooth experience that makes you feel like a gaming pro, even if you're just a casual player.

All of this is sure to get you super excited to play the game and unlike the arcades of the old where you had to go and search for specific arcades and the cabinates, now you can simply order the game kit from the exA-Arcadia website directly. Yes, you heard me right you can now buy the game separately and use it with any Arcadia-approved arcade system which not only increases the longevity of the game but also ensures that it will be allowed to stand on its own merit.

Figure 4. BATSUGUN EXA LABEL Gameplay

Playing BATSUGUN EXA LABEL is more than just firing up another arcade game. It's a trip down memory lane for older gamers as they are teleported back to a time before the responsibilities of life, before the degradation of the gaming industry to a time when the only thing that mattered was getting that first place on the scoreboard. So if you think you are up for that then this game is for you.

@"everyone"