B

ased in the Steam version, released on March 25, 2021
For some time now I have been practicing how to play with sniper mechas, since in Squads and TDM they are mechas that can make a lot of difference between one team and another. And among the small number of snipers in the game currently, and since my style of play is more focused on mobility, Raven is the sniper with more flexibility thanks to its set of attacks. So, here I bring a build for Raven's Core I (but u can use the core II if u only can get the II); Although I have to clarify that since I am not a sniper player, because my aim is not the best ... Anyway I leave the build.
Modules
The modules I use for this build are modules that have to be unlocked... Sadly you will need to invest profency(?) chips, but the modules you will get will be worth it. First is the Attack Module 'Explosive Arrow' to gain a biggest AoE when we load our main weapon to the maximum; Defense Module 'Life Drain' in order to gain a little of DUR leech when we deal damage to the enemy; and Propulsion Module 'Track' that allow us to deal more damage to a marked enemy after being hit for the arrow of the primary weapon and having inflicted at least 400 points of damage.
This modules will allow us to fight at long range without problems and allow us to have more flexibility when we're searching for the modules in a BR match.
Tech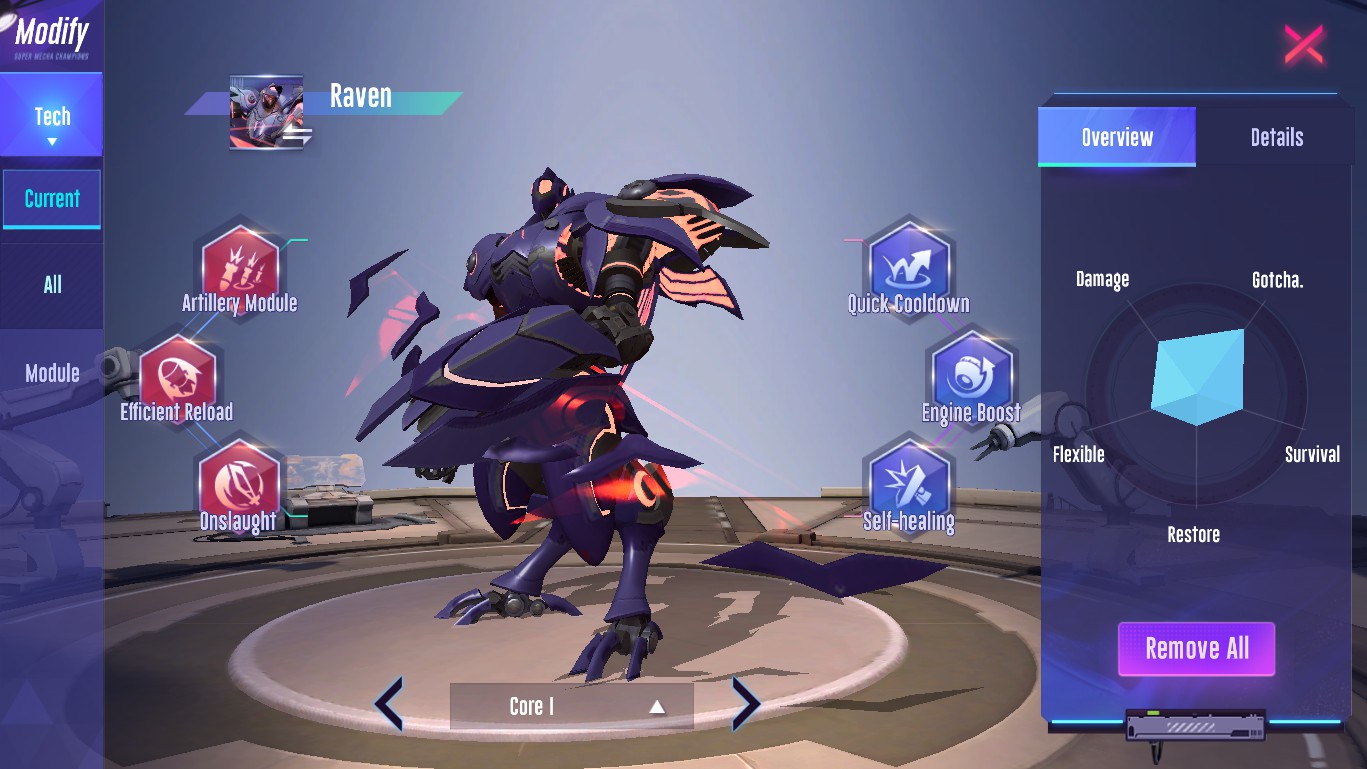 This time the tech is a little different against past builds, because this time the tech wont seek to exploit some specific feature of the mecha, but will focus on a combat style.
As we can look in the image, the attack tech will give us more AoE for the use of the primary weapon, and the defense tech will allow us to have less cooldown for the Combat Skill and a little more of DUR leech.
Pilots

As usual, the pilots that I leave in this section can be anyone to the player's liking. This time this mecha is a unique sniper with unique mechanics... so...
Nighthawk:

The exclusive pilot of Raven, and his mastery it's pretty worth with his mecha, dealing more damage after sometime of no attack.

Silver Deacon:

The sniper pilot, his mastery allow us to deal more damage when we're far to the enemy (150m).

Shin:

This pilot is more for mobility than attack , allowing us to have a little buff of movement speed after using the Combat Skill.

How to Use?

Well... Raven it's a little bit hard to learn, overall because the trick in this mecha is the timming and prediction with the arrows.
When you'll attack an enemy that you already know where is, don't worry by missing the attacks. You have infinite ammo, so you can miss the attacks.




No try to aim to the place where is the enemy, if the enemy is a flighless

 type, just attack a little more infront or at the side of the enemy.




Take advantage of the AoE

of Raven-loaded arrows to allow you to aim less accurately and with more speed.




For better results, practice Raven with bots in solo matches to understand the timming and the prediction way of the attacks, and to gain your own range for Raven, all players play it with different sniping limits (In my case my sniping limit is at the 230m).



Video Example

The effectiveness of this build depends on the skill of each one, as well as the skill of the pilot and the wisdom of each player when looking for fights xd.
If you need more builds or want to share your own build, you can do it by entering here.
If you need some guides for improve your skills, follow the next link.
If you are interested in watching some SMC streamers in Spanish, I recommend these:
* * * * *
If you are looking for them in English, I recommend these:
* * * * *
I would appreciate it very much if you follow them :3
"Aprendiz de todo, maestro de nada"
Un jugador bastante nuevo en cualquier juego; en el futuro espero seguir aportando tanto contenido como pueda XD