OVERVIEW
This build has some solid stamina, especially good build for charging range and crowd control. Either way, if you're hit and hit a wall from an enemy running a full power build, you're usually going to die even if you run solid tanking build (from what I have experienced). So, this is a build that offsets that tanking ability but instead focuses on increasing her charge ability as a melee, specifically movement speed.
BUILD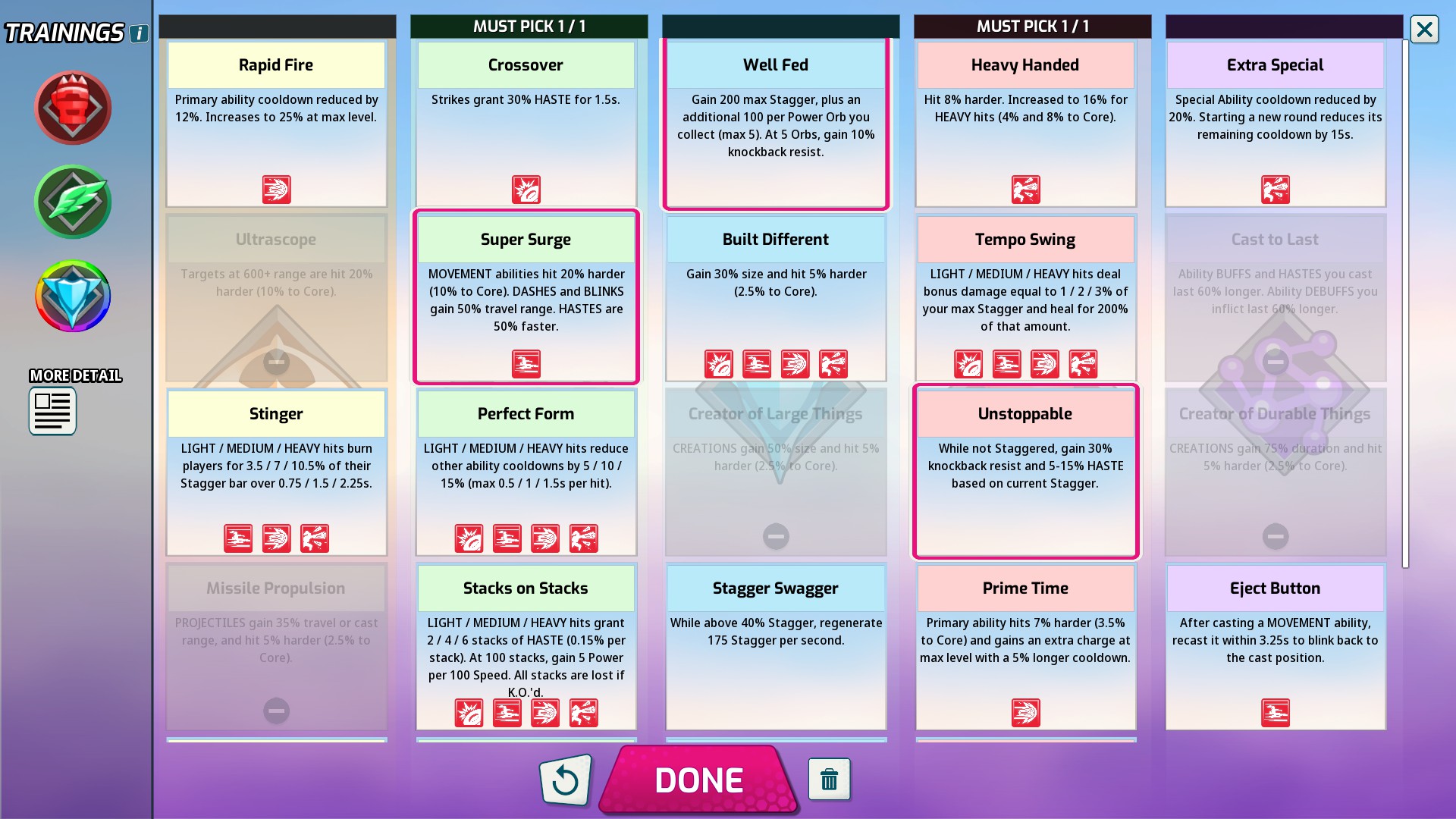 SLOT VARIANTS
You can replace Well Fed with your own choice.

USAGE
Use R (Flame Flurry) only if, 1) you think you can hit at least two enemies together, 2) the core is around your goalpost with lots of enemies and you need to defend, 3) vice versa case of previous use case #2, 4) If you are very sure you can kill 1 enemy definitely, especially you aim bouncing back effect when your enemy is close to wall, 5) you prevent you or your team losing the initiative/control of the game, 6) When you are in front of an enemy goalkeeper and you want to create a goal by randomizing the direction of the ball to hit.

Do acknowledge yourself that you play as full melee character, so the mobility is key component since you are not be able to perform any ranged attack. Thus, make a good use of "Flying Phoenix" to reach to the core or the expected arrival point of the core.

If you're near an enemy keeper and you're repeating the action of swapping cores with the enemy keeper, each time you hit the Q button, step back a little after right hitting the core, then come forward and hit again—Play as flexible as a spring. Repeat this process. Creating a little space is very helpful for counterattacking.


Juliette Combo 1:

 Q -> The core bounced back by enemy goalkeeper -> W to the core/expected arrival point of the core (good if it can also hit goalie) -> If failed and blocked by an enemy goalkeeper, use E upon the core/expected arrival point of the core for additional hit, or R upon the core/expected arrival point of the core for randomizing the direction of the core (good if it can also hit goalie), or Q (by this point, it is recharged) -> Use the remaining of E, R and Q (good if it can also hit goalie).


Juliette Combo 2:

W (Flying Phoenix) -> E (Fiery Fist) for attacking enemy efficiently. Use this combo only if your target enemy has low health, or near the wall. This may continue to R but only if you are sure it will make a kill (determine it fast by looking at enemy HP bar over 40% or not).

You may spam E, which is the least important skill, to enemies to just interrupt or to push to the wall, or use E to the expected arrival point of the core passing around you (as it has longer range than Q) whenever possible. But do save W and R, and use them timely.

Use W skill more for the purpose of moving to a spot where the core is expected to arrive soon, rather than hitting enemies.

Be careful if you are near the wall, especially against character "X".

COUNTERS
Beware of enemies who deceive their location by teleporting. You may waste a lot of time in moving, skill, stamina, etc. because you are being fooled by the enemy's teleport. This is lethal as a melee character.

TOP STREAMERS
Twitch:
None
Youtube:
None
*
Request us
to advertise your video/livestream in this post if you livestreamed/posted a video about this build! This will triple viewer counts of your video/livestream.
* Thank you very much if you can rate the build by clicking stars above (near Thread Rating), and review the build by commenting below once you played it!
Jotaku, Anime Game Gamer
I. Super Mecha Champions NA Legendary Tier
II. Tokyo Ghoul: re Call to Exist NA Top #2
III. Fate/EXTELLA Link: NA Top #9
IV. Senran Kagura PEACH BEACH SPLASH: NA Top #3