3 Best PvP Browser Games 2023

In the modern age of the internet, browser-based games provide a whole new level of convenience and accessibility. Gone are the days of spending a chunk full of fortune every few years on upgrading your PC with newer beefy hardware components.

With browser-based games, all you need is a stable internet connection to ensure a smooth gameplay experience. Moreover, such online games also don't require you to download and install anything on your PC. This is because all of the processing power is handheld by their respective servers.

And with our list of the 3 best PvP browser games to play in 2023, you can challenge players all around the world and show off your skills in these top-notch PvP games!

Table of Contents
Figure 1-1. World of Rune

World of Rune is a must-play browser-based game for RPG fans that transport players to a 2D fantasy world where they can create their very own characters and even adopt pets.

The game has a class system divided into 4 categories: Swordsman, Archer, Mage, and Cleric where each class has its own unique attributes and powers. Swordsmen are great at melee combat and boast high defense, while archers are experts in long-range combat. Mages deal devastating critical hits but have low health points, and Clerics are essential support characters who can make a huge impact if played correctly.

Figure 1-2. World of Runes Gameplay

And that's not the end of the picture yet. World of Runes also has Pets, Equipment, Cards, and Guild gameplay mechanics to keep things fresh and exciting. Pets are loyal companions who accompany their masters everywhere and can assist them in battles. Equipment is used to upgrade a player character's stats, and there are five different levels of rarity for each Equipment. Cards also have a similar function but have four levels of rarity. And let's not forget about guilds, which provide exciting rewards and inter-guild PvP battles between players.

As such, World of Rune is the perfect blend of strategy, adventure, and fantasy, and with so much to explore, you'll never get bored!


Yet another game that is as exciting as the World of Rune but with 1 major difference. Where World of Rune is played from a top-down 2D perspective, Flyff is full-blown 3D. So, if you are a fan of 3D role-playing games, then this is your go-to MMO game.

Flyff is short for "Fly for Fun" and has been captivating players since 2005. The gameplay revolves around character progression, combat, as well as exploration. There are 4 starting classes in the game, namely Mercenary, Acrobat, Magician, and Assistant, that a player selects at the start of the game. When players advance through levels, a further 8 classes are unlocked. Another additional 8 classes are again further unlocked at even higher levels of character progression. Notedly, each class has its own set of unique skills, abilities, and equipment that gives players strategic freedom in creating their own perfect character.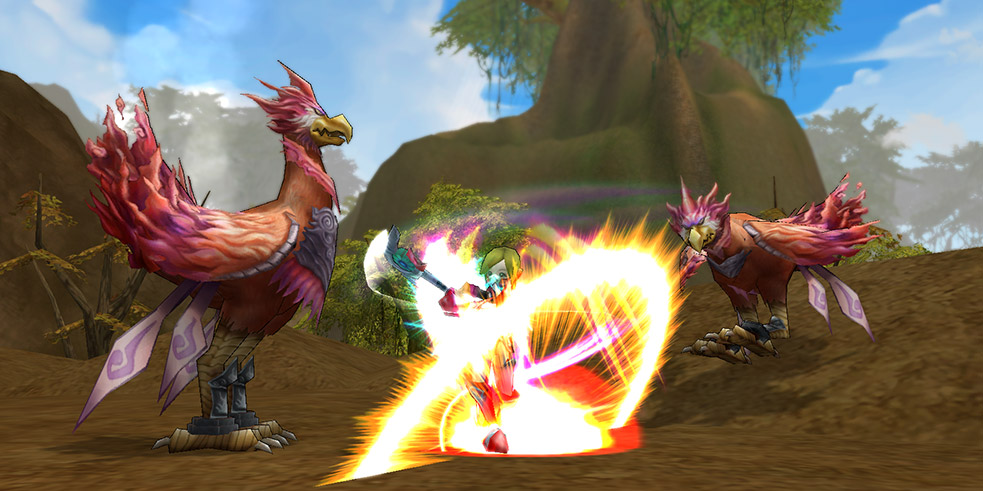 Figure 2-2. Monsters in Flyff

In order to defeat monsters and complete quests, Flyff gives players access to a wide variety of spells and skills that encompasses melee, ranged, and magic combat. In addition, another exciting gameplay mechanic lets players take it to the sky and explore the game world from above. Moreover, Flyff also supports Guilds as well as different modes for PvP battles.

So, if all this sounds interesting, we can one more thing for sure: It is even more interesting when you play the game!


DB Clash is the ultimate Dragon Ball fighting game that fans have been craving for ages! Where other DB games restricted us in various ways, DB Clash gives players limitless freedom to advance with their favorite characters from the franchise.
 
The game currently boasts a roster of 15 iconic playable characters, including fan-favorites such as Goku, Vegeta, Yamcha, Krillin, Tien, Android 18, and Frieza, each with their unique set of skills and traits. In DB Clash, all characters share the basic attributes of Health, Defense, Strength, and Energy, which can be upgraded by exploring the vast in-game world and training.

Figure 3-2. DB Clash Character Roster

To make the game world even more tactical, DB Clash features 21 distinct skills that a player character can learn and develop. These skills are divided into 5 sub-levels, with each level bringing a significant increase in the number of lessons and skills to learn.

The game also offers turn-based PvP battles that add an extra layer of excitement to the gameplay. Players can put their hard-earned skills to the test against other real-life players and climb the leaderboard rankings. And don't worry about being new to the game; the leaderboard rankings reset each January, so everyone has a fair shot at climbing to the top.

So why wait any longer? Get yourself registered for free and begin your epic journey now!

@"everyone"
You May Also Like
If you couldn't find your favorite here, You can also check the list of
best PvP games
of all time, regardless of platforms and genres. If you're specifically looking for only the list of the best PvP games of 2023, you may want to check out:
3 Best PvP Strategy Games on Android in 2023
4 Best PvP Games on PS5 in 2023
4 Best PvP Open World Games 2023
3 Best PvP Games for Low End PC in 2023
3 Best PvP RTS Games in 2023
3 Best PvP Games to Play with Friends in 2023
2 Best PvP Board Games in 2023
3 Best PvP Games of MMORPG in 2023
3 Best PvP Games on iPhone in 2023
2 Best Turn-Based PvP Games 2023
2 Best PvP Shooting Games for Android 2023
5 Best 1v1 PvP Games 2023
2 Best PvP Games Nintendo Switch 2023
2 Best PvP Games Free in 2023
5 Best PvP Games on Android in 2023
2 Best PvP Survival Games PC 2023
3 Best PvP Games on Oculus Quest 2 in 2023
3 Best PvP Games on PC in 2023
5 Best PvP Strategy Games 2023
3 Best Full Loot PvP Games in 2023
3 Best PvP RPG Games in 2023
3 Best PvP Games Mobile 2023
3 Best Local PvP Games 2023
2 Best PvP Arena Games 2023
3 Best PvP Racing Games 2023