ok by looking at this website i see guilty gear, eternal return, dbfz are famous anime esports games but they are all moba and fighting greres.
We see Super Mecha Champions and Microvolts Recharged after Senran Kagura Peach Beach Splash, but both are also TPS, not FPS, and also not that much popular reaching 1k viewers on twitch. but from my experience in anime game field for a long time, i see that generally asian people don't too much like of Shooter games so that's why PUBG, developed by even asian devs, never entering as same level  of success as fortnite/csgo, in which are mostly played by european/american where less like anime art than asian region. that's probably why we don't see much of FPS anime games as most anime game developers are from asia except Omega striker's dev. But I think finding appropriate way to integrate FPS with anime theme is hard anyways. Well, 1 possible concept might be as following.
However, making an anime game like this could turn the game into a joke that has nothing to do with esports. You can check Bishojo Battlefield if you want to know further more.
For RTS that focuses on 1v1 like old heydays of Age of Empire or Starcraft, I only see
Star Maidens Chronicles
by team Project YNP, but the game is too old and also unsuccessful due to just only few units and buildings. However, this game translated anime theme into RTS genre very well, uniquely, even better way than Hundred Swords by Sega on Dreamcast. I wonder if different company buy license of Star Maidens Chronicles and further develop it may succeed in esports market as a competitive 1v1 focused RTS genre. But still, it will need a fusion of fusions of somethings. Meanwhile, there is an upcoming anime RTS titled
The TouHou Empires
to be released in 2024. I wonder if it would get more successes than other Touhou games.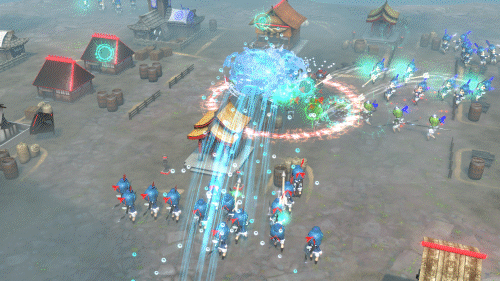 The Touhou Empires Gameplay
maybe for anime games to become stardard in global esports market, we need quality and competitive FPS (again, I don't think TPS-only anime game will work as competitive pvp game. it may might probably be working as competitive shooter genre if it is FPS/TPS dual like
Trianga's Project - Battle Splash 2.0
though, but i ain't sure) anime game targeting europe/america, and 1v1 focused RTS game that targets both america/korea (as starcraft was popular in korea and america is origin of RTS genre basically with warcraft/command and conquer/starcraft/etc). well right now competitive anime games are already doing very well in moba and fighting genre, so anime games need other genres to succeed globally, targeting any kinds of gamers in all competitive genres.
simply copying successful games into anime graphics won't work. Onmyoji Arena already proved that. we need something like a fusion of fusions of somethings. This also means that there is high possibility that simply making high-quality pure-FPS anime game or high-quality 1v1-focused-pure-RTS anime game wouldn't work but needs a fusion of mixtures of blends of somethings.
i almost forgot successful card game yugioh, yeah, so no worries for competitive card genre game as well.
Jotaku, Anime Game Gamer
I. Super Mecha Champions NA Legendary Tier
II. Tokyo Ghoul: re Call to Exist NA Top #2
III. Fate/EXTELLA Link: NA Top #9
IV. Senran Kagura PEACH BEACH SPLASH: NA Top #3