11-07-2022, 09:46 PM

(This post was last modified: 11-13-2022, 06:05 PM by

AnimeGamer

.)
5 Best Anime Games on PS5 in 2023
Sony has been a bastion for anything anime related in the last decades. It has not changed as we enter the next console generation with the highly anticipated Play Station 5. Many games can use the better system to push the game mechanics, visuals, and special effects. Some anime games you might want to play on the new PS5 are as follows.
Table of Contents
Figure 1. Ys IX: Monstrum Nox
Platforms: PlayStation 5, PlayStation 4, Microsoft Windows, Nintendo Switch, Google Stadia, Amazon Luna
Ys is the Falcom series they are known for and is beloved by its fans. It was one of the first actions RPG to hit the market and has only innovated and evolved. Ys VIII was the series' first step in the 3D world, and
Ys XI
has perfected the high-speed action and merged it with another one of Adol's wacky adventures. As mentioned before, we take control of Adol Christain, who has a nasty habit of ending up in the wrong place at the wrong time. This leads to some of the most fun and memorable tales ever. This time he finds himself in the city of Balduq, and after some legal complications, he is thrown into prison, saved by a mysterious woman, and turned into a new form. From here, the plot unravels into a mess of political intrigue, and social injustice, with our dear old Adol, caught in the middle.
The Combat is the classic Ys fast-paced hack-and-slash system translated into a 3D world. You can use a mix of regular attacks and a combination of unique skills and spells to deal massive damage. With enough talent, you can also carry out flash guards and dodges to ensure you always win. The city also helps in this as now you can traverse entirely with a grappling and gliding mechanic to explore the city and find all the hidden secrets. It is a must-play for anime fans, as it might be the best game in the series.
Platforms: Microsoft Windows, PlayStation 4 & 5, Xbox One & Series X/S
Altas has surprised everyone by making a new game in one of its long-dormant Soul Hacker series.
Souls Hackers 2
is more like a complete reboot of the series. It still keeps some core story beats and world lore but other than that, it is an entirely new experience meaning players can play this even if they have not played the previous series. Soul Hackers 2 follow the story of Ringo, a charismatically curious human construct that is sent on a mission with Figue to alter the future and ensure man can survive. Ringo is unique as she is AI-created; she tries to learn about humans and how they operate. You will see from a different perspective why humanity is essential to save and how it works for the greater good.
Combat is turn-based, the altered version of the press-turn system called the stack mechanic. It is easy for newcomers but requires skill to ensure total victory. The party consists of four team members, each with their backstories and stake in the narrative. As devil summoners, you can form contracts with different demons of a wide variety, from ancient dragons to the barons of hell. You will explore two major areas the main Japanese dungeons where the actual story plays out and the Axis, which is a gateway to the soul matrix of your party members to play out their backstories. It is a must-play for all persona and SMT fans, as who knows when we will get another new Atlus game.
Demon Slayer -Kimetsu no Yaiba- The Hinokami Chronicles
Figure 3. Demon Slayer -Kimetsu no Yaiba- The Hinokami Chronicles
Platforms: Nintendo Switch, PlayStation 4 & 5, Xbox One & Series X/S, Microsoft Windows
Though the series only started in 2016, Kimetsu No Yaiba has become one of the most successful, completely overtaking in raw sales. This is despite the reliance on just one type of media format. But that changed with the release of 
Demon Slayer: The Hinokami Chronicles
. It has been recently released to other consoles with all the post-DLC content available at the get-go. It follows the story of the anime to a T but also includes extra side content to expand and flesh out the world and the lovable cast of characters, from the pure-hearted Tanjiro to the wildish Inoske. It is an excellent way for new people to enjoy the series.
Combat in Demon Slayer plays like a cross between devil may cry and naruto ninja storm. Battles place you in arenas with one or more foes, and you use different moves taken straight from the anime and manga to annihilate the competition. Each character has access to moves and grabs attacks which can be chain combos and utilize special moves to do finishers. You also use secondary characters both in the story missions and verses to come to help you by providing one-time attacks to shit the tides of battle. Online play is also quite responsive; you can easily play with multiple people worldwide or locally with your friends.
Gunvolt Chronicles: Luminous Avenger iX 2
Figure 4. Gunvolt Chronicles: Luminous Avenger iX 2
Platforms: Nintendo Switch, PS4, PS5, Xbox One & Series X/S, Steam
Gunvolt is an obscure game series. That's why it is surprising that a spin-off of the main series would have this much polish and attention placed on it.
Gunvolt Chronicles: Luminous Avenger iX 2
, which is a mouth full to say, is a sequel to the first game but does not require playing it first.
It has a straightforward premise: you are Copen, the previous game's protagonist, and as you enjoy your time, you are sucked into a dimensional rift and end up in a parallel world. From here, you must fight your way through the hordes of enemies and climb the mysterious tower to get back home. It is a very generic plot, but the execution is anything but. It mixes the plot beats with the combat and bosses to deliver an excellent thriller with exciting plot twists.
The action is the center stage of the series, and it is a 2D Mega-Man-style platformer where you clear stages and get upgrades to progress through the main story. The combat is perfect in every regard. The movements are swift and snappy, and the melee and skill-oriented combat forces players into a position where they must use everything to survive and soon use those same mechanics to break the game. The considerable skills and weapons also provide multiple avenues for players to branch out and find their own playstyle. The beautiful pixelated art style also helps players be immersed in this beautiful game.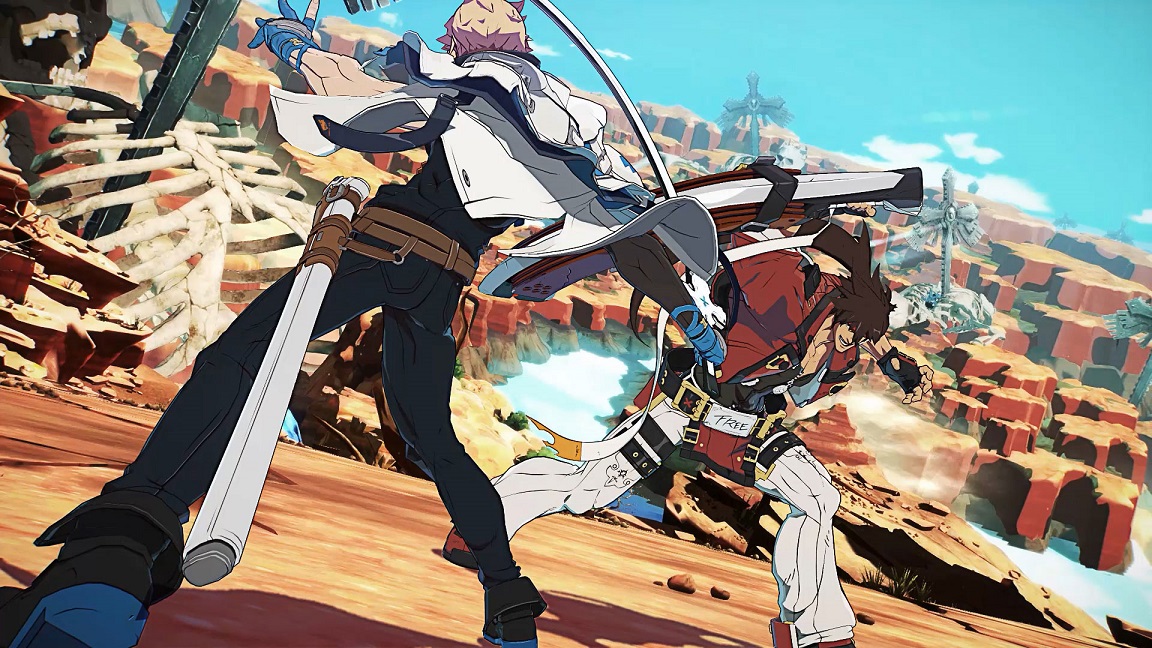 Figure 5. Guilty Gear Strive
Platforms: PlayStation 4 & 5, Microsoft Windows, Arcade Game, Xbox One & Series X/S
Arc System Works is now an industry standard for fighting games, and it started with its flagship game, the Guilty Gear series. It, for the most time, was unable to break into the mainstream as it did not have the appeal of easy combat and a simple understanding of the story of the other competitors. This caused it to form a cult following, and it has only recently, with
Guilty Gear Strive
broken into the main steam.
Guilty Gear has always been more about quality than quantity, which has led it to only feature a small roster with a wide variety of gameplay options. Strive features a cast of 15 characters at launch, and everybody has been handcrafted for maximum enjoyment and to be as balanced as humanly possible. They all have kits that can easily be used by new players to enjoy the game and mastered by pros to break the meta in half. The process also helped include practice matches for most characters to get familiar with their kits. The story and overarching plot is something Guilty Gear has consistently led in as it has a narrative that spans multiple games and has some of the most satisfying payoffs in gaming history.
An Arc System Works game's trademark other than combat is the excellent net code, which allows for low latency and high response times. A new online hub will enable you to customize your account as you see fit. That is not to say anything about the actual online gameplay, as it is an amalgamation of Arc System Wok's 20 years of hard work to craft a game that will undoubtedly attract all kinds of players to its EVO and how knows you might be the next grand EVO champion.
I hope this article was able to help you find some enjoyable games to play on your PlayStation 5 this winter season. For more anime game-related content, stay tuned.
You May Also Like
If you couldn't find your favorite here, you can also check the list of
best anime games
of all time, regardless of platforms and genres. If you're specifically looking for only the list of the best anime games of 2023, you may want to check out:
4 Best Anime Card Games 2023
3 Best Anime Dating Games 2023
3 Best Anime Hack and Slash Games 2023
3 Best Anime Games Free in 2023
5 Best Anime Games With Character Creation 2023
3 Best Anime Horror Games in 2023
3 Best Anime Love Games in 2023
3 Best Anime Waifu Games in 2023
5 Best Anime Games to Play With Friends 2023
5 Best Anime Games on Google Play in 2023
5 Best Anime RPG Games 2023
3 Best Action Anime Games 2023
3 Best Anime Games on Nintendo Switch in 2023
3 Best Anime Games for iOS in 2023
5 Best Anime Games for Low-End PC 2023
3 Best Anime Games Android Offline 2023
3 Best Anime Dress Up Games 2023
3 Best Anime Dating Games for Android in 2023
3 Best Anime Games for Xbox in 2023
3 Best Anime Games on Oculus Quest 2 in 2023
3 Best Free Anime Games for PC in 2023
3 Best Anime Gacha Games in 2023
5 Best Multiplayer Anime Games 2023
3 Best Anime Games Online in 2023
3 Best PvP Anime Games 2023
3 Best Anime Co-Op Games 2023