OVERVIEW
This melee build is an introduction and description of the Two-handed Sword Fiora build, which has the strongest winrate among all Two-handed Sword Fiora builds for solo queue in the livestat of dak.gg website as of the end of March 2022. Simply put, it is a build that can do a lot of damage in a short time, and you can stably melee the enemy by activating the strong defense that is maintained for a short time plus stun.
Build Performance Analysis using Build Measurement Guide (LV20 Fiora vs Dummy with hp 2400/def 200 as of v0.59.0):
Dmg per 10 sec (Stationary Melee Measurement) - average 3383

5 Continuous Hits (Orb Walking Measurement) - average 836 * 2.4 (attack range) * 1.99 (attack speed) = total 3992 Approximation of Orb Walking Performance

Overall Melee Performance - 3687

Max Damage of Fente (Skill Amplification Measurement) - average 204

Defense - 126

Uniqueness - 1) Be able to craft fish and chips, upgrade to Monohoshizao and Feather Boots pretty fast for going just 1 more path. 2) Due to part 1, it takes long time to build, frequently resulting in late gathering in duo/squad.

PRE BUILD
POST BUILD
AUGMENT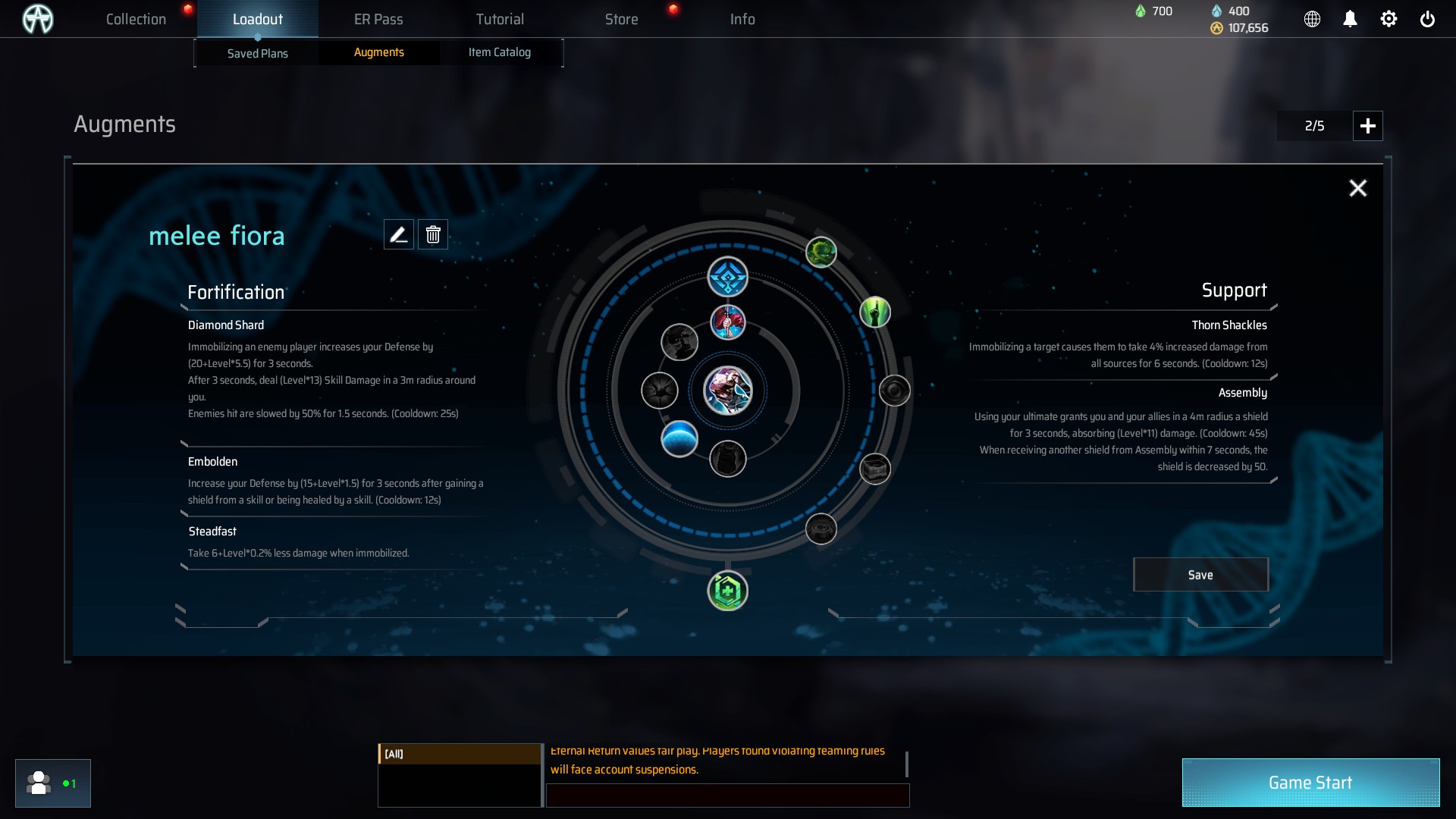 ROUTE
SKILL ORDER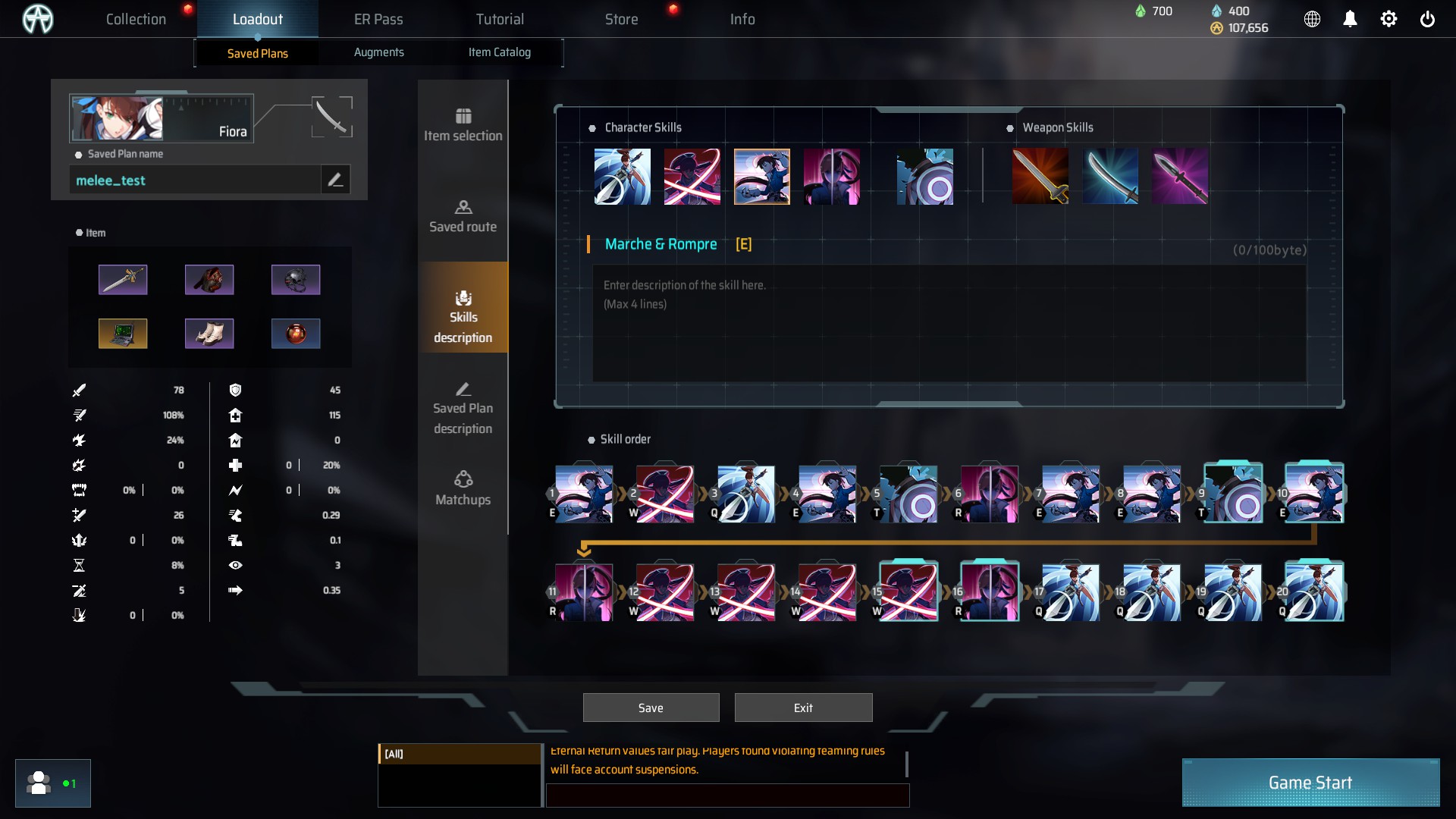 * Basically you focus on Marche & Rompre and Fleche.
SLOT VARIANTS
For post build, you may replace any of them with other items that increase defense/life steal/attack range/attack power/etc. However, do keep in mind that you will need to maintain your attack speed above 100% (Doubled Speed).

USAGE
You will need to memorize what makes Fish and Chips, Monohoshizao, Pendulum Axe, Feather Boots in order to run this build very well. Also, memorizing the crafting tree of other effective post-items (gold colored items) unlisted in the post build picture above are very helpful so that you can make replacement when you don't get items in the post build image above.

Take 2 lighters from the Alley or Factory. Don't throw away the oilcloth and iron sheet. Pick up 1 Fountain Pen, 1 Running Shoes , and 2 oil from Uptown then go to the Temple to get 4 Fish and Chips, Monohoshizao, and Feather Boots. This takes nearly 6 ~ 6.5 path, which takes long time but less than 2 days in which respawn is allowed, but you can use Arondight and White Rhinos until getting Monohoshizao, and Feather Boots.

The build requires you to carry lots of items until you obtain Monohoshiza and Feather boots. However, crafting a lot of equipment takes lots of SP. In that case, you may drop HP regen foods and then only carry SP regen food until you have some inventory spaces, or drink SP regen food and then drop it and then craft with items in boxes while recharging SP at the same time and then pick up dropped SP regen food, etc. There are lots of ways you can somehow maintain good amount of SP while carrying and crafting lots of items.

Using the Fleche well to stun is the key to winning in this build. The moment the Fleche is activated, you will receive a huge defense buff due to augment, but it is important to keep in mind that before using the 3rd Fleche, it is important to use Fente or Attaque Composee well to slow down the opponent and add additional time for stun. Oddly enough, you can see that the disarm of Attaque Composee is classified as slow, giving it an extra stun time. Also, in the case of Fente, to slow down, you must attack with an edge.


Fiora Combo (Based on LV3 Touche) :

Fleche -> Fleche -> Attaque Composee or Fente to slow enemy -> Fleche -> melee. Please make sure that you can use any skill  except either one of Attaque Composee or Fente between each part of Fleche in order to just fill enemy's applied Touche level to finally activate Touche with the third part of the Fleche, which follows either one of Attaque Composee or Fente.

Because the attack speed is fast, each battle is over in an instant, so it is important to target the right opponent. Use the A key from time to time to hit the correct opponent. In general, it is better to target an opponent that has low defense and can be killed quickly.

It is important to create a chance for making close combat situation as many as possible because you can easily get huge defense point simply by using the Fleche in close combat, and you can safely hit melee repeatedly with high defense from augment for a short time even if you may take a lot of damage. In other words, it's important to root the enemy, and collect the Pendulum Axe.

If you do not have Fleche ready, I recommend you avoid fight if possible.

COUNTERS
An enemy with "Respite" weapon skill that will avoid your combo. You need Fleche to make good damages in short time, but your cooldown buff from your equipment is 0% taking long time to recharge Fleche.

TOP STREAMERS
Twitch:
None
Youtube:
None
*
Request us
to advertise your video/livestream in this post if you livestreamed/posted a video about this build! This will triple viewer counts of your video/livestream.
* Thank you very much if you can rate the build by clicking stars above (near Thread Rating), and review the build by commenting below once you played it!
Jotaku, Anime Game Gamer
I. Super Mecha Champions NA Legendary Tier
II. Tokyo Ghoul: re Call to Exist NA Top #2
III. Fate/EXTELLA Link: NA Top #9
IV. Senran Kagura PEACH BEACH SPLASH: NA Top #3