11-17-2022, 07:29 PM

(This post was last modified: 04-13-2023, 10:18 PM by

AnimeGamer

.)
2 Best PvP Shooting Games for Android 2023
Shooting games make players test their real-time decision-making skills and encourage them to surpass that. In shooting games, players defeat their opponents via an arsenal of different kinds of weapons to prove their dominance in combat arenas.
Consequently, these games are widely popular and hence available on all gaming platforms. Let us look at the best PvP shooting games for Android in 2023.
Table of Contents
Figure 1. Super Mecha Champions
Super Mecha Champions
is a 2019 state-of-the-art third-person shooter battle royale game from
NetEase
. With already 1M+ downloads, this iconic free-to-play game is available on Android's
PlayStore
for users to try out.
The game's setting takes place in the neo-futuristic Alpha City. In the game, all the Super Mechas and their Ace Pilots from all over the world have assembled together to participate in the Super Mecha League event. 
The game gives players complete freedom in selecting the Mecha of their choice. As of today, there are 18 different Mechas that are all unique in terms of their strengths and abilities. Each Mecha possesses its own combat style. The only question to ask is this: Can you align your battle style with a Mecha and deliver the ultimate showdown? 
In Super Mecha Champions, there is a Mecha for almost any main combat style. If you prefer close fierce clashes then Ivan's Hotsteel is your best bet. Got a taste for long-range fights? Then Silver Deacon's Gabriel is your go-to Mecha. Have a liking towards quick lethal takedowns? Then Iori's Skylark has your back! And just like that, there is a Mecha for almost every major fighting scenario.
Super Mecha Champions showcases some of the best dynamic ground fights, nimble aerial combats, lethal weapons, and ingenious ace pilots! In the game, can you stand your ground and face off deadly machines?
Azur Lane
is yet another free-to-play 2D PvP navy battle shooting game that was developed by 2 solo Chinese developers back in 2017. The game app went on to become a critical hit title and currently has more than 5M+ downloads on Android's
PlayStore
!
Set in a fictional World War II time period, this PvP game lays heavy emphasis on strategic navy battles. In online PvP combats, players are given the option to form up to a total of 6 ships. The game's grid battle formation is divided into front and back-row formations with 3 slots in each row.
The front row can only be allotted Destroyers, Light Cruisers, and Heavy Cruisers. The back row has more diverse options: Battleships, Aircraft Cruisers, Monitors, Repair Ships, Battlecruisers, and Aircraft Carriers.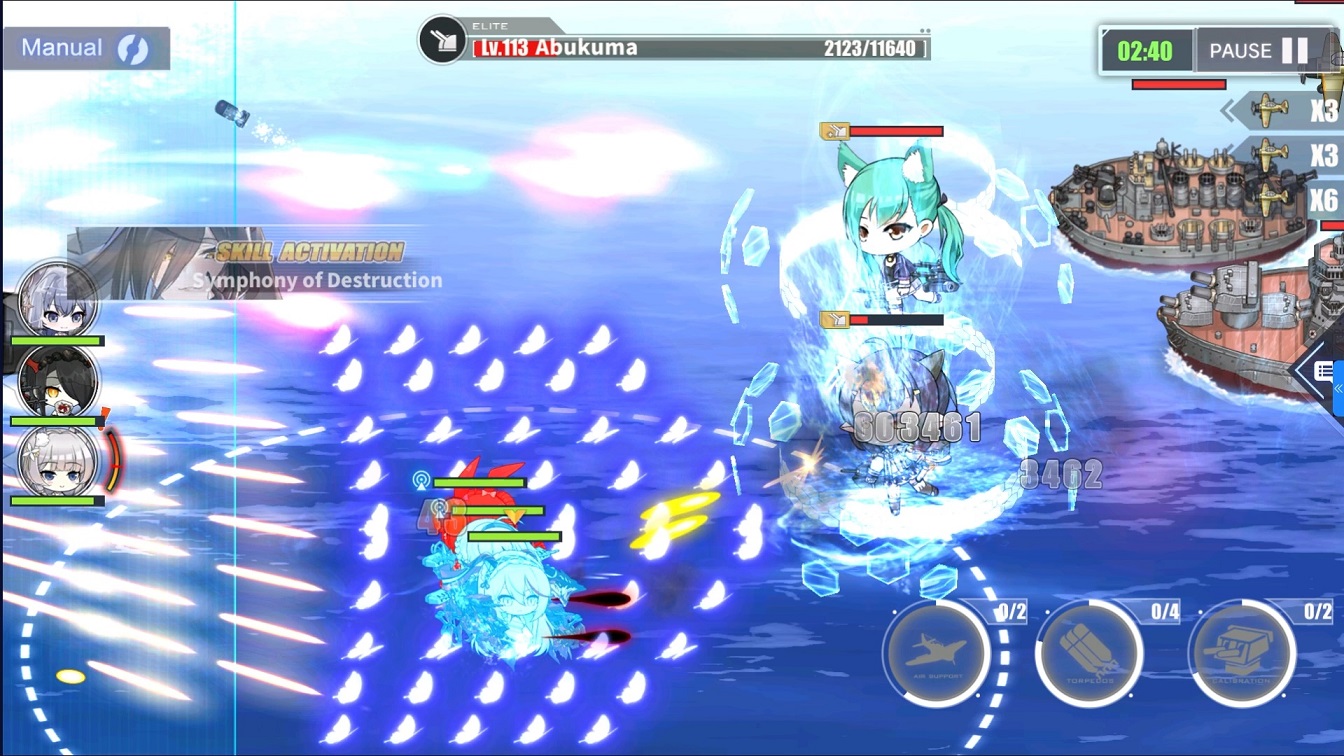 In Azur Lane, the warships are represented as beautiful and cute-looking animated girls. However, do not let their lovely aspects deceive you. Behind their salacious appearances hides lethal attacks and fatal blows. Each female character is unique in terms of her abilities which allows for some next-level freedom in building strategic shooting-filled navy battles. 
As of March 2021, the game has 450+ female characters that represent the different numbers of unique ships. Your victory in PvP battles heavily lies in how well you strategize your ship battle formation! Can you do this?
You May Also Like
3 Best PvP Strategy Games on Android in 2023
4 Best PvP Games on PS5 in 2023
4 Best PvP Open World Games 2023
3 Best PvP Games for Low End PC in 2023
3 Best PvP RTS Games in 2023
3 Best PvP Games to Play with Friends in 2023
2 Best PvP Board Games in 2023
3 Best PvP Games of MMORPG in 2023
3 Best PvP Games on iPhone in 2023
2 Best Turn-Based PvP Games 2023
5 Best 1v1 PvP Games 2023
2 Best PvP Games Nintendo Switch 2023
2 Best PvP Games Free in 2023
5 Best PvP Games on Android in 2023
2 Best PvP Survival Games PC 2023
3 Best PvP Games on Oculus Quest 2 in 2023
3 Best PvP Games on PC in 2023
5 Best PvP Strategy Games 2023
3 Best Full Loot PvP Games in 2023
5 Best PvP RPG Games in 2023
5 Best PvP Games Mobile 2023
3 Best Local PvP Games 2023
3 Best PvP Browser Games 2023
5 Best PvP Arena Games 2023
3 Best PvP Racing Games 2023
3 Best PvP Shooter Games 2023
3 Best Free PvP Games on PC 2023
2 Best PvP Gacha Games 2023
2 Best PvP Survival Games 2023
3 Best PvP Card Games 2023
5 Best PvP Strategy Games iOS 2023