Based in the Steam version, released on March 25, 2021
Finally, after a long time, I have here the second part of the best pilots to use in SMC. Again I have to mention that this guide is focused more than anything on the advantages and disadvantages of using the pilots, since much of this depends on the style of play of each player. That is why some pilots fit better than others, however, according to my own experience and the opinions of several veteran players and pros alike, these are the best to use. This time I will talk about Vita and Norma.
Vita (Neutral)
Character Talent – Mecha Hunter
Previously considered one of the most "op" Talents of the game, and this is because it greatly facilitates the Combat Pilot against Mecha. Since as we can see we have an increase in damage against the mecha and in the same way, a decrease in the damage that a Mecha causes us in pilot mode.
Advantages:
If you are one of those players who prefer to stay most of the time in pilot mode, this talent makes it much easier for you to fight against the mechas.




If you usually wear down the mechas first in pilot mode before using your own mecha, it also makes combat much easier.




It is universal with any type of weapon and with any weapon (It even works with the Mini-SMG).




It has no cooldown to activate and It works as long as you are in pilot.



Disadvantages:
It only works in pilot mode, it doesn't work with wicks.




It is wasted if you are one of the players who occupies more time the mecha than the pilot.




It is a "combat" talent, so aggressive players will take advantage of it more.



Mecha Mastery – Quick Shield Recharge
Equally a pretty decent mastery for any player; this will help us a lot with those mechas with little DUR or very slow, since we will have an increase in shield recovery (We will recover more points from the shield per second) and in the same way we will have a decrease in the amount of waiting time to start recovering the shield (We will start recovering the shield sooner).
Advantages:
If your mecha has a lot of shield or has little shield, it is also useful.




Mastery is universal for any mecha.




It can be combined with tech to increase shield recovery.




It is useful for mechas with low DUR.



Disadvantages:
It is more than anything a mastery of neutral type, that is, it does not serve for combat but is not 100% passive either.




It depends a lot on the style of play of each one, the mecha you are using, and the mecha you are fighting.




If you are one of the players with a lot of dominance with a wick that you are playing with this mastery, the effectiveness of it will be noticed very little.



Norma (Aggressive)
Character Talent – Femme Fatale
He is currently the most "op" talent in the game, as it works in a similar way to vita's Mastery but with pilots. Offering us a damage reduction that reaches up to a maximum of 15% of the damage when we are attacked by pilots of the same sex (Female Pilots) and giving us a damage increase that reaches a maximum of 15% when we attack pilots of the opposite sex (Male Pilots).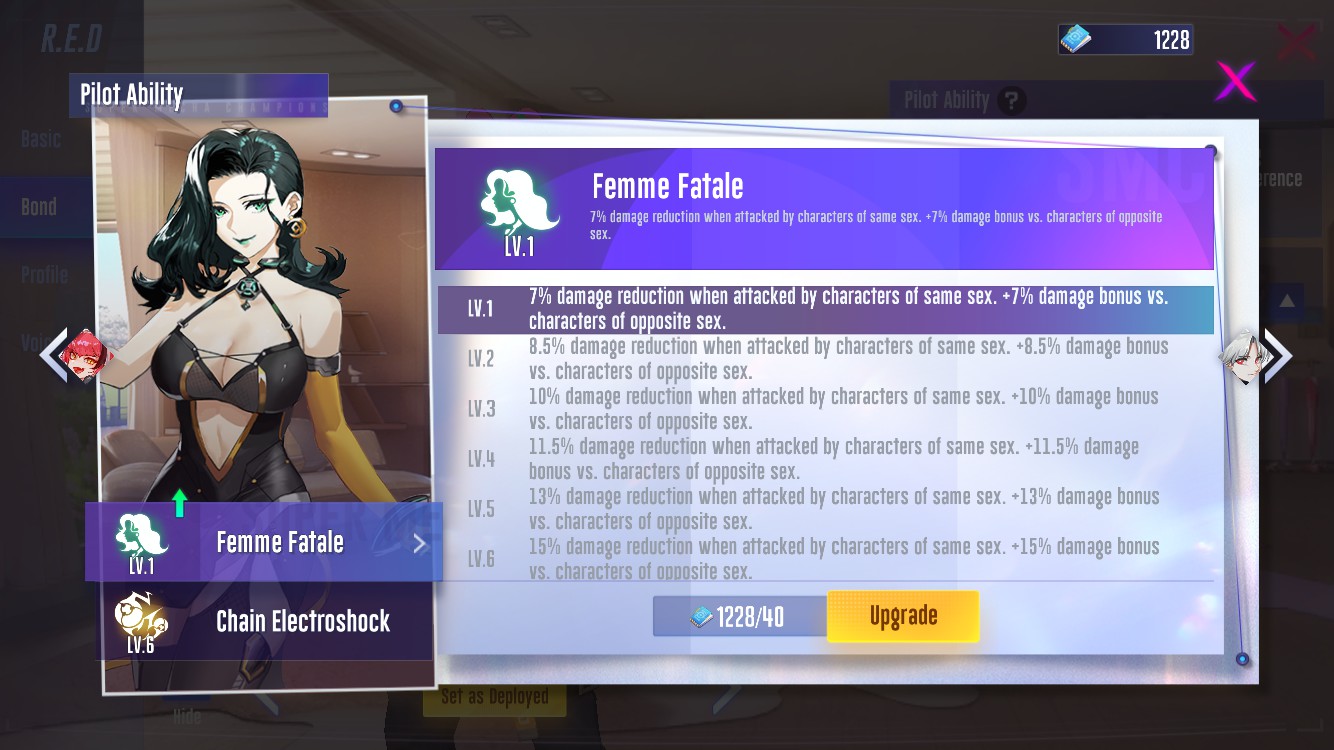 Advantages:
Thanks to the reduction and increase in damage, it makes it much easier for you to attack pilots regardless of the sex of the enemy.




For the most veterans, the use of this Talent greatly affects how it is played in the pilot phase and in Ace Time.




It does not possess cooldown ability.




As long as you are in combat, the talent remains activated and has no negative effects.




It works with any type of damage caused by the pilot (Weapons and Vehicles).



Disadvantages:
It is not very useful for players who use the mecha longer than the pilot.




To increase the effects of this Talent, you have to have a lot of practice and marksmanship with all weapons.




The talent for the most novice players is very aggressive.



Mecha Mastery – Chain Electroshock
Norma's mastery is another that combined with the same Norma gives the impression of being an improved version of Vita, since this mastery is more useful for combatant players than the aforementioned one.
After using the secondary attack of the mecha we will have an increase in damage that reaches a maximum of 25% to show the main weapon (The Basic Attack) of the mecha, which will remain active for 7 seconds or disappear to the first attack mentioned.
Advantages:
The maximum damage you can acquire when climbing lvl this mastery, is very high (One quarter more damage).




If combined with different Tech and Tactical Terminals, the increase can be even greater and therefore more significant.



Disadvantages:
The increase in damage is only limited to the first attack of your main weapon (Basic Attack).




Mechas that have powerful basic attacks rather than those with basic attacks of continuous attacks benefit more.




Given the limitation of the first attack of the main weapon, it is necessary to have a decent aim so as not to miss the damage bonus.




It has a very significant coolwon.



The effectiveness of this guide can vary depending on the skill of the player, as well as his prudence when fighting.
I invite you to
register
on the page so that you know about the following guides, and the different contents that are published regularly on the site.
If you are interested in more SMC guides, follow
this link
.
If you are looking for builds for your mechas,
this link
is for you.
If you are looking for more SMC content, the following link will help you.
"Aprendiz de todo, maestro de nada"
Un jugador bastante nuevo en cualquier juego; en el futuro espero seguir aportando tanto contenido como pueda XD