Table of Contents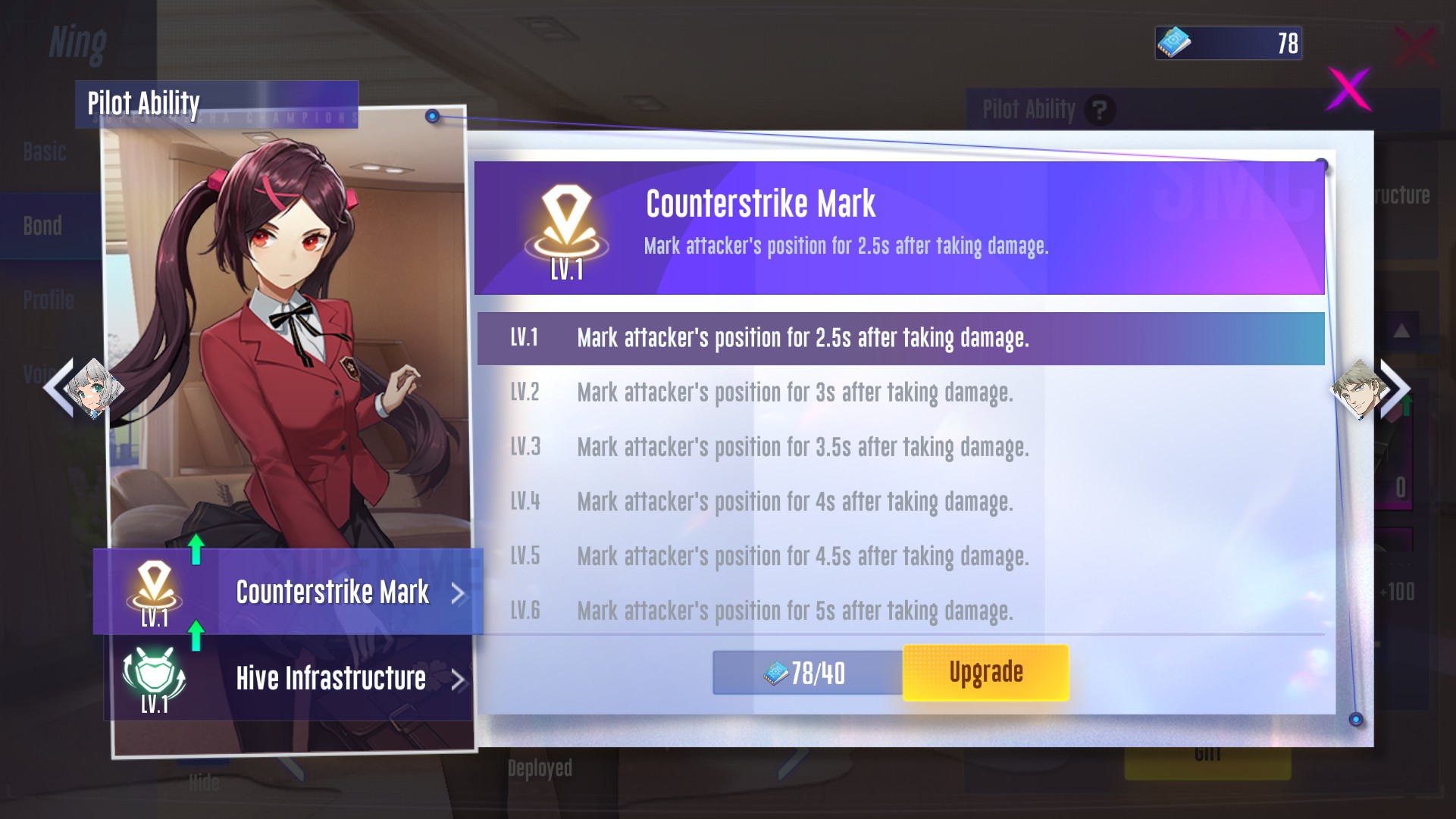 Counterstrike Mark
Mark attacker's position for (2.5...5)s after taking damage
Hive Infrastructure
+(105...210) max mecha DUR.
Combat Shield
Gain 35 temporary Shield for (90...180)s after a kill.
Combat Control
-(3.5...7)% combat skill CD for mecha.
Lithe Posture
+1 use of tumbling/charge skill, +(0...10)% distance for tumbling/charge.
Expeditious Charge
+(5...10)% max mecha Fuel.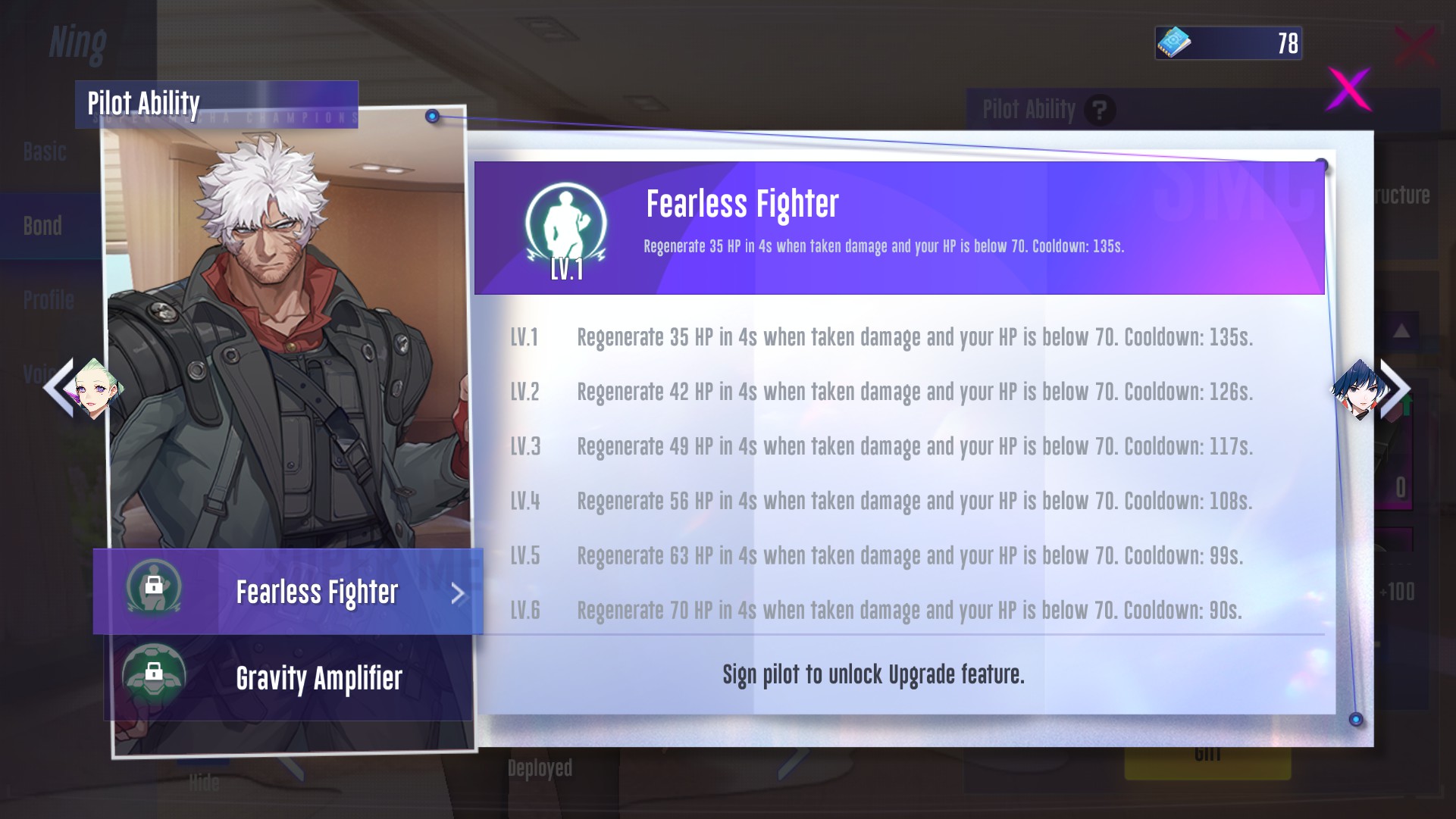 Fearless Fighter
Regenerate (35...70) HP in 4s when taken damage and your HP is below 70. Cooldown: (135...90)s.
Gravity Amplifier
-(5...10)% max mecha DUR, the DUR reduced is converted into Shield.
Wind and Snow
Perform an extra minor jump in air at (75...125)% of normal distance.
Self Repair Device
Restore (10...20) DUR every 4 seconds after disengaging.
Dexterous Tumble
Reload at (75...150)% of normal speed when tumbling.
Extreme Firepower
+(0.5...1)% damage dealt for every 10% DUR lost by mecha.
Crimson Rhapsody
Gain (5...10)% DMG reduction for 2s upon firing.
Strong Interference
+(15...30)% duration of debuffs caused by mecha to enemies.
Operative Pilot License
+(5...10)% Movement Speed and damage reduction when piloting vehicle.
Pursuit Program
+(5...10)% Movement Speed for 3 seconds (but only once every 9.5 seconds) upon scoring a hit with a secondary weapon.
Mecha Hunter
+(4...8)% damage vs. mecha, -(6...12)% damage taken from mecha.
Quick Shield Recharge
+(10...20)% Shield Recovery, -(15...30)% Recovery Cooldown.
Survival Prayer
Get 25 HP shield when HP is under (30...60)%, up to 90 time(s) every 1 seconds
Fatal Verdict
Primary weapon gains (3...5.5)% ATK bonus vs. enemies more than 150 meters away.
Genius Merc
For (3...4) seconds after switching weapon, +(5...15)% damage bonus, 20 second cooldown
Hail of Bullets
+(10...20)% reload rate
Survival Treasure
+(10...20) recovery with recovery items (including Team Deathmatch Recovery Pack), +(10...20)% speed when aiding teammates.
Protect & Recover
Effects for shield recovery skills (excluding modules) improved by (7.5...15)%, +(7.5...15)% recovery with recovery items (including Team Deathmatch Recovery Pack).
Kizuna Ai has no unique skills (Fully Swappable Cross Pilot)
Swordflight
+(5...13)% damage on Skateboard and +(5...13)% Movement Speed
Lightning Mantra
Use a tactical skill to call a lightning strike on the nearest enemy, dealing (100...125) damage to mecha or (20...35) to pilot. Cooldown: 20s.
Femme Fatale
(7...15)% damage reduction when attacked by characters of same sex. (7...15)% damage bonus vs. characters of opposite sex.
Chain Electroshock
For 7 seconds after using a secondary weapon, +(14...25)% damage to next primary attack. 9-second cooldown.
Wingsuit Mechanic
+(30...50)% height when ejecting from a destroyed mecha. +(35...55) speed when gliding in a flying machine.
Hovering Attack
+(4...8)% damage bonus when mecha is hovering more than 8m off the ground, and greater the altitude, greater the damage. Up to (6...10)% at 20m.
Bloodthirsty
Gain +(14...24)% Leech when attacking pilots.
Shadow Hunter
Hold off attacking for -(6...4.5) seconds for 8% damage next attack.
Lethal Thrust
Melee DMG increased by +(10...21)% within 15m.
Wing of Swiftness
Increase Movement Speed by +(15...26)% when taking damage for 3s. Triggers 1 time every 6s.
---
* This document is last updated at August 14st, 2022.
* We will keep updating the document as there is any new patch.
Jotaku, Anime Game Gamer
I. Super Mecha Champions NA Legendary Tier
II. Tokyo Ghoul: re Call to Exist NA Top #2
III. Fate/EXTELLA Link: NA Top #9
IV. Senran Kagura PEACH BEACH SPLASH: NA Top #3