12-14-2022, 05:11 PM

(This post was last modified: 12-24-2022, 11:48 AM by

AnimeGamer

.)
3 Easiest Esports Sponsors to Make Profitable Livestream 2023
Esports has long since evolved from isolated tournaments or city championships. It is now an international sport where teams from different countries compete for the title of the best player. This has led many to pursue esports as an official sport, but for many, it isn't easy to start as it requires a significant investment and a long time to pay it off.
But that is where sponsors and different affiliates come into play, as with its popularity growing, many companies are investing in tournaments, players, and even teams. This helps them support the community while gaining free publicity, and for players, it allows them to pursue their dreams. Three such sponsors are mentioned below in the article.
Table of Contents
Red Bull might not be the first company that comes to mind when considering esports or competitive gaming. Still, in recent years, they have sponsored many competitive esports tournaments to give players a platform to be their best. It also helps that they consider esports the same as conventional sports and do not try to isolate it, which makes it far more welcoming to new players. Recently, they have sponsored tournaments for many games, including
Dragon Ball FighterZ
.
Dragon Ball Fighter Z
is the best game for any Dragon Ball fan as it allows you to pick from a comprehensive roster of 40+ characters, each with their iconic moves from the series, and battle it out for dominance in a 2D fighting match. With Arc System Words making the game, one can rest assured that it will be well-balanced and fun to play. With the excellent net code, one should not be surprised that this game has climbed the ranks and has become one of the most played competitive fighting games.
Figure 1-2. Dragon Ball FighterZ Roster
This is due to the easy-to-learn mechanics and a low entry bar, making it perfect for new players or streamers. 
Red Bull offers players to be linked with them in a couple of ways, such as winning a low-tier tournament or showing their resolve and gaining followers in the major ones. Alternatively, one can contact them through their
Red Bull website
or
media house site
. RedBull sponsored Dragon Ball FighterZ World Tour Final had a massive prize pool of $80,000 Dollars! which no doubt provided players with ample motivation.
Figure 1-3. Red Bull Esports Tournament
Corsair
is a brand known by many gamers far and wide for producing some of the best gaming and computer accessories on the market; their quality rams and cases are some of the most bought items. But in recent years, they have started changing their methods by making deals with established
esports
teams and personalities. All the while introducing a new system of tier levels for up-and-coming gamers and streamers to give them a chance to support their careers and become affiliated with Corsair. This allows players to play competitive games and stream games like Eternal Return to build up their community and advance higher and higher in the Corsair affiliate/sponsorship program. Eternal Return Season 7 provided a powerful platform for players to play and have a chance to win a massive prize pool of 3,000,000 KRW!, which no doubt will help on their esports journey.
Figure 2-2. Eternal Return MOBA Design
Eternal Return
is a try at making some of the most enjoyable elements of popular competitive games, League of Legends, accessible to the masses while putting a unique spin on it. It is the mix between a MOBA and a Battle Royale, where you drop into a map filled with 18 players and hostile NPCs to survive and win. You can choose from a massive roster that goes through a rotation to keep things fresh. Each character has a unique ability and an upgrade path which can only be followed by collecting material in matches. This mechanic ensures that each player starts at the same level and makes the late-game encounters tense. It is inspired by MOBA, making it highly streamable, and it is an excellent start for new gamers as it is easy to learn.
Figure 2-3. Corsair Sponsorship/Affiliate Tiers
Corsair can be contacted by either applying to their program on their
Corsair website
, or if you are a great player or have built a loyal community, they might reach out to you.
Fusion
might be a new name for many, as it refers to a new line of products released by
PowerA
. Who is responsible for creating some of esports and gamers' most famous and used controllers? They have the most utility with extra programable buttons with ergonomics in mind and are often more accurate to use than the original controllers. Fusion is their new line with competitive esports in mind, as it is custom-tailored to that. Their Fusion wireless arcade controller was used in the EVO championship as PowerA was a sponsor. Players used it in many games, one being Guilty Gear Strive.
Figure 3-2. Guilty Gear Strive EVO Sponsored by Playstation and PowerA. You can see PowerA logo at the bottom of EVO website as of December 2022.
Guilty Gear Strive
is the latest in the Arc System Works magnum opus Guilty Gear series. It features extensive lore that justifies the game's events and powers while being a 2D fighter with excellent combat and even better characters, some returning from older and new games. Overall they all have been balanced to such an extent that there is no broken move or ability in the game. This is also helped by each playable character having unique kits which complement a specific playstyle. The community loves it, as it is the most newcomer-friendly game in the series and the perfect point for players to jump into it and its competitive scene.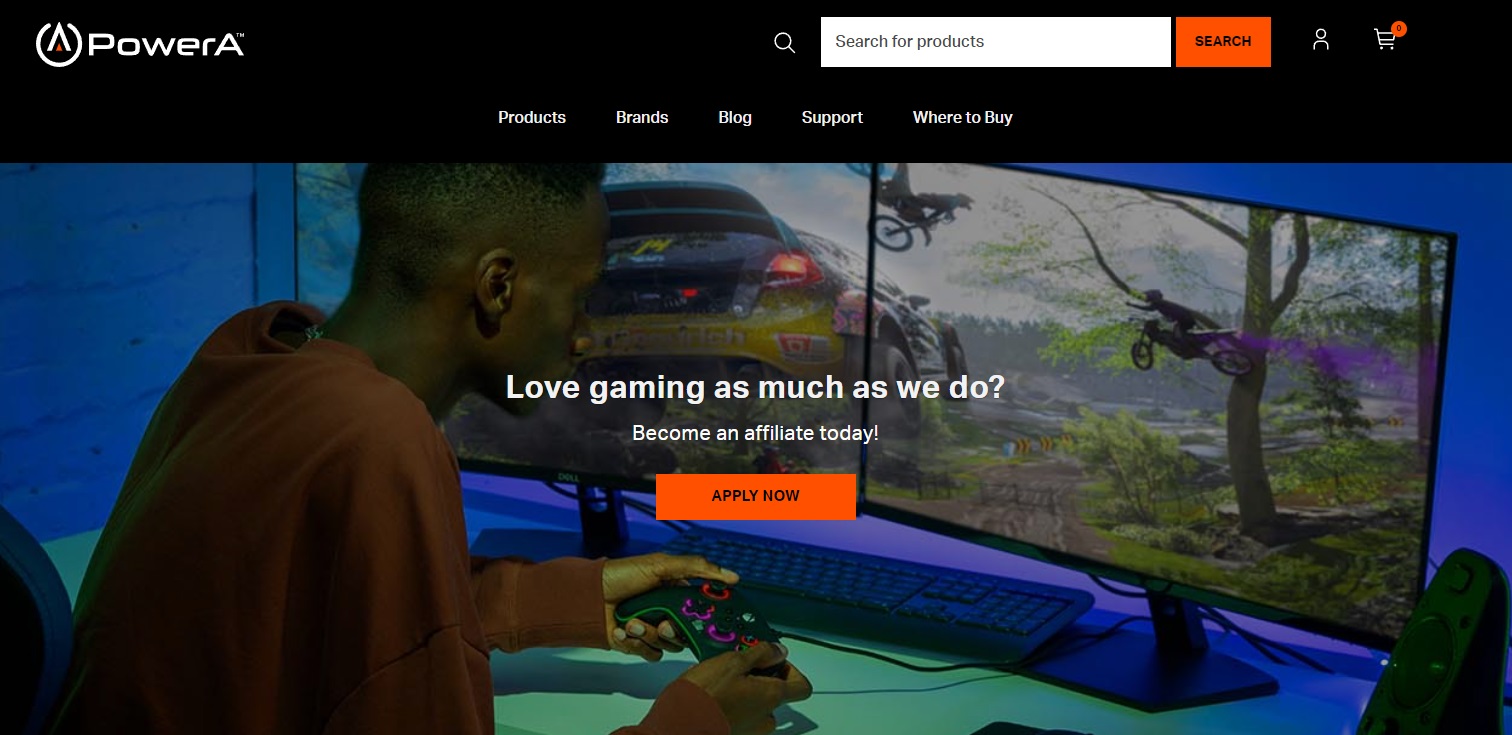 Figure 3-3. PowerA Affiliate Program
One can quickly be affiliated with PowerA and Fusion by applying for their program on their
PowerA website
. They can also sponsor you if you participate in the EVO championship and show your skills. EVO has the main tournament for many esports fans and teams, and one of the reasons is the massive prize pool it has; this year alone, Guilty Gear Strive had set a massive reward of $21,580 Dollars!, and that is not counting the other games and their pools.
You May Also Like
3 Easiest Esports Games 2023
3 Easist Esports Steam 2023
2 Easiest Esports Tournaments & Leagues 2023