As of April 2021, best anime MMORPG games are
Kurtzpel (PC),
Genshin Impact (PC, PS4, Mobile),
Phantasy Star Online 2 (PC, PS4, Xbox),
Aura Kingdom (PC),
SoulWorker (PC),
Tower of Fantasy (PC, Mobile),
...
---
A List of Best Anime MMORPG Games
Here we cover Best Anime MMORPG games that keep updating, and released within 10 years.
The list is based on
Best Anime Games 2020-2021 (Ranked & Reviewed By Gamers)
database, which is very accurate because it is unbiased, voted and reviewed by many gamers.
Kurtzpel (PC)
Kurtzpel is basically similar to many mmorpgs: You start in a town, solve the quests around, gear yourself up and get stronger. Personally, I liked a combat system in Kurtzpel because actions and animations per skills are quite impressive and enjoyable in a sense that it requires fast reaction of yours. However, at the same time combat style in this game become a little bit spammy, but is acceptable from my perspective. The game isn't open world, but its good combat system makes me feel kinds of "fine". Kurtzpel also do involve gacha, and has PvP if you like competitive gaming.
Tower of Fantasy (PC, Mobile)
This is a new MMORPG released in August 2022 and is currently a popular online game. It provides similar gameplay and environment to Genshin Impact, but you can think of it as adding a PvP mode that Genshin Impact does not have. Therefore, it is recommended when you want to play a more stimulating game than Genshin Impact.
Genshin Impact (PC, PS4, mobile)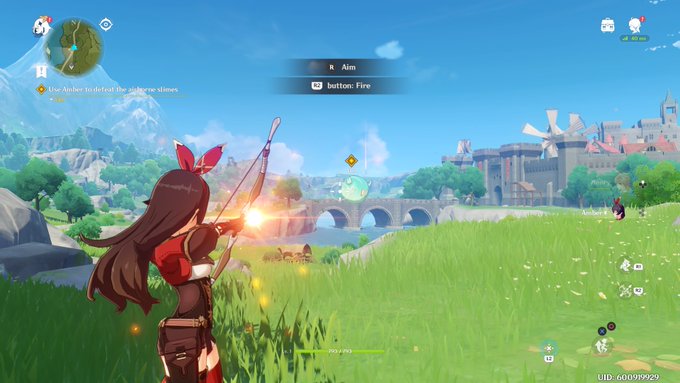 Genshin Impact is anime MMORPG. The game is completely open world and designed to deliver the best PvE experiences, which is the phrase its developer said, along with co-op. This means, there is no PvP. Genshin Impact is currently talking top spots among whole PlayStation game sales as of February, 2021. This means this is currently the most popular anime games on both PC and PS4: actually it is currently the most popular anime game on whole gaming platform including PC, not only PS4. The game currently has the best graphic quality among all free anime games. The game has great character customization system. And it comes with a gacha model like usual MMORPGs. Thus, you will go deeper in grinding.
Phantasy Star Online 2 (PC, PS4, XBOX)
This game doesn't have English version on PS4. There are PC and XBOX version but I highly recommend PC version since PC provides greater gaming experiences when it comes to MMORPG. Gameplay-wise, it's is quite impressive. Personally I like the combat system there but not as much as how much I liked Phantasy Star Online 1 or Phantasy Star Universe. But as said in Onigiri part above, You will need to give it a try. In this game, you can have multiple weapons that you swap depending on the situation you have. You can use auto or manual aim when it comes to guns. It also has PvP if you need competitive, but very basic that I wouldn't recommend. For myself, I was once a fan of Phantasy Star Online 1 long time ago on both PC and Dreamcast.
Aura Kingdom (PC)
It's an atmosphere and everything like the combat system feels a bit like the classic mmorpg released in the early 2000s, but it's actually an anime mmorpg game released in 2014. Therefore, we introduce it because it has not yet exceeded the 10 years mentioned on the top of this page above. I feel a lot of nostalgia for some reason when I am playing a game. It's a game with a lot of classes. It supports PvP and is an open world game. Aura Kingdom 2 also exists, but I personally think that Aura Kingdom 1 is much better, and in reality, Steam Review, etc. are also better.
SoulWorker (PC)
SoulWorker is a quest and mission based action MMORPG. You can select a playable character and then basically you can customize your character. This means looking are different per players but combat system are same per each characters. The game also has PvP if you like competitive gaming. You will start in a town and basically solve the quests as you go deeper. In terms of combat system, personally, I felt quite good and it was enjoyable to me. But since it's not a open world, I felt kinds of narrow at the same time.
---
A List of Anime MMORPG Games that Look Impressive
Here we cover other Anime MMORPG games that may not be the best anime MMORPG games, but still look quite impressive.
Closers (PC)
This game is a side-scrolling action RPG game like old games but in 3D. In terms of combat, I think it is one of the best anime games along with Dragon's Crown as a side-scrolling action RPG game. Since this side genre is quite personal preference, it was excluded from my choice, however, I still think it is, again, one of the best side-scrolling action game. About general gaming style, it is similar to Kurtzpel and Soulworker: You start in a town, solve quests, gear yourself up and get stronger. The game has PvP if you like competitive gaming.
Caravan Stories (PS4)
Caravan Stories is well, basically role-playing game that comes with mobile-like UI. The game includes features that most mobile game provides like AUTO combat mode. Plus it is gacha game. It will look like PS4 version of mobile games you used to play. Caravan Stories is 2nd most popular free anime game on PS4. There is a PvP, more specially, dueling. You basically collect heroes, gear them up, and let them battle in the battlefields. Of course, each heroes behave differently and has own skill. So this requires your strategy.
Onigiri (PS4)
This game also meant to deliver great PvE experiences like Genshin Impact, thus there is no pvp. Combat system is, to be honest, quite unique from my point of view. However, it wasn't that much favourable to me. But this should differ to each people. You definitely need to give it a try if the combat system fits you since all the free anime games on PS4 system are MMORPG which you will be playing long so that it is important to try all anime games before selecting one to play for a long time. And I also see many people who love this game and play for a very long time.
There are so many anime MMORPG games that look impressive. So we only introduce titles below:
Dungeon Fighter Online
Elsword
Nostale
Mabinogi
Aura Kingdom 2
FlyFF
Eden Eternal
Wakfu
* Some Google searches give you that Final Fantasy XIV, Blade & Souls, Tera, etc are anime games. In fact, they are not anime games. Having a couple of anime looking races in a game doesn't mean that the entire game is an anime game. They are games with some anime characters, but not anime games. We exclude them from the list since we focus on anime games that are fully integrated with anime art.
---
A List of Anime Games that Look Similar to MMORPG and Impressive
This is an ultimate guide of best anime MMORPG games, so we even introduce anime games that aren't MMORPG, but that feel pretty much like playing MMORPG and looks impressive.
Sword Art Online Game Series (all games for PC and PS4, some games for Xbox and Nintendo Switch)
If you've seen Sword Art Online anime in the past, you know that its roots originate from MMORPG. Therefore, Sword Art Online games, even if they are not MMORPG, are like playing MMORPG from UI to atmosphere and battles. Although it is not an MMORPG, most of the Sword Art Online games support Co-op and PvP, which are basic multiplayer types. By April 2021, the best-selling game in the Sword Art Online game series is called Sword Art Online: Fatal Bullet. It's not a free anime game, but if you want to play PvP-focused games only and have a PlayStation, Xbox, or Nintendo Switch, you can also download the demo version and play for life free of charge. Make sure whole pvp contents of Sword Art Online: Fatal Bullet is free and does not requires you to farm/grind in order to get strong in PvP. There are lots of players so I would recommend it if you are going to play Sword Art Online: Fatal Bullet like the way you play Fortnite, Overwatch, League of Legneds (PvP games).
Cyberdimension Neptunia: 4 Goddesses Online (PC, PS4)
This game is also famous for being an anime game with the cutest graphics. Everything, such as UI and combat, is similar to MMORPG. Basically, it supports co-op, and there is no PvP. This is because the game is basically built to give you the best PvE experience. It is not a free anime game.
Jotaku, Anime Game Gamer
I. Super Mecha Champions NA Legendary Tier
II. Tokyo Ghoul: re Call to Exist NA Top #2
III. Fate/EXTELLA Link: NA Top #9
IV. Senran Kagura PEACH BEACH SPLASH: NA Top #3