11-18-2022, 08:37 PM

(This post was last modified: 11-18-2022, 08:38 PM by

AnimeGamer

.)
3 Best Anime Games for iOS in 2023
Games have long since evolved from their humble roots of consoles and can now be played at the ease and convenience of the players. The advancement of smartphones brought this about as they allowed for more convenient and cheaper ways to enjoy games. Apple's iPhone was the leader in this field as its advanced software optimization allowed many games to be made. This also holds for the current day, as with the advancements made, iPhones can now let players play AAA titles. Anime games being no exception, some of the best available for iOS devices are the following.
Table of Contents
Platforms: Android and iOS
War and conquest have always been a part of human nature, and no media represents it better than games, as they allow us to take control of these events and chart our way. But what many games lack is the human touch; wars are fought for the sake of the people, which many games do not acknowledge. Lord of Heros is the exception; it features a continent-spanning conquest driven by the knights that fought in it and the people they fought for. You, as the player, take control of a self-made king and conquerer and are thrust into the story of war. At the start, you are only a small nation with a few knights, but soon you start to fight the neighboring countries and expand the reach of your kingdom eastward, where rumors tell of a mighty conquerer. The entire narrative is expertly carried by the cast of knights with individual characteristics and can shed more light on the land's history.
With fantastic art style and immersive graphics, Lord of Heroes does not disappoint. The gameplay is a mix between Genshin Impact and Fate Grand Order. The action is turn-based, while the knights each have a normal attack and three special attacks, which can further synergize with other knights' attacks to deal more significant damage. Lord of Heros also gets many content upgrades, allowing you to even travel in the past to fight along the ancient races. It is an excellent game with a nearly endless amount of things to do.
Platforms: Android and iOS
Arknights is one of the unique gacha anime games available on iOS devices. It goes against many of the standard gacha game tropes and delivers a fantastic experience for the end user. The game is, at its core, a tower defense game in which you can use anime-inspired characters to defend your objective. The core way it differs from its contemporaries is that it allows players to complete everything in the game without spending much cash on rare characters and hours optimizing their teams. It is highly free-to-play friendly. It also offers a thrilling plot that will have you invested in the game for a long time.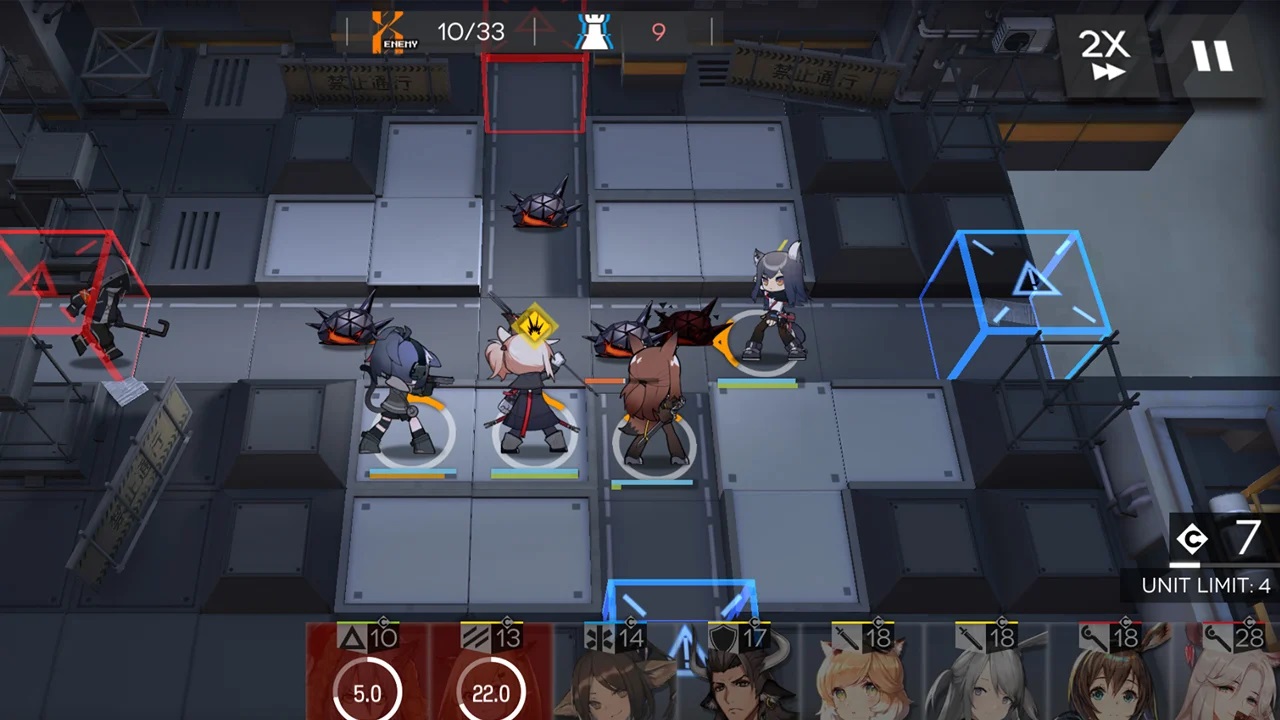 Arknights is also relatively straightforward in character customization. You can only evolve the combat abilities, but this also helps you focus on how those abilities work and synergize with others. The gameplay is tower defense, where you will need to place your characters and utilize their skills to stop the waves of enemies coming. The strategy will play a more significant role as you progress through the game. You will not be able to brute force your way through many of the scenarios. It is sure to provide you with great enjoyment.
My Hero Academia: The Strongest Hero
Figure 3. My Hero Academia: The Strongest Hero
Platforms: Android and iOS
My Hero Academia has become a massive phenomenon in recent years, leading it to be adapted into multiple different types of media. This also holds for games, as you can now play many on various devices. My Hero Academia is the most recent one and one you can play on your iOS devices. My Hero Academia is an online MMO RPG game where you can use multiple iconic heroes and students from the series in numerous events. The story of the series mixes canon elements with some original storylines. After the story recap, you are put into the world as Pro Agents as you battle villain after villain.
The fighting is highly addictive as the animations and skills are pretty refined and allow great flexibility while playing. Each of the heroes in training has different move sets, which help them stand out from the rest and are more effective against certain types of enemies. The loot system is also quite generous, as you can gather level-up material and in-game currency quickly by just playing. Fans are sure to enjoy it.
You May Also Like
If you couldn't find your favorite here, you can also check the list of
best anime games
of all time, regardless of platforms and genres. If you're specifically looking for only the list of the best anime games of 2023, you may want to check out:
4 Best Anime Card Games 2023
3 Best Anime Dating Games 2023
3 Best Anime Hack and Slash Games 2023
3 Best Anime Games Free in 2023
5 Best Anime Games With Character Creation 2023
3 Best Anime Horror Games in 2023
3 Best Anime Love Games in 2023
3 Best Anime Waifu Games in 2023
5 Best Anime Games on PS5 in 2023
5 Best Anime Games to Play With Friends 2023
5 Best Anime Games on Google Play in 2023
5 Best Anime RPG Games 2023
3 Best Action Anime Games 2023
3 Best Anime Games on Nintendo Switch in 2023
5 Best Anime Games for Low-End PC 2023
3 Best Anime Games Android Offline 2023
3 Best Anime Dress Up Games 2023
3 Best Anime Dating Games for Android in 2023
3 Best Anime Games for Xbox in 2023
3 Best Anime Games on Oculus Quest 2 in 2023
3 Best Free Anime Games for PC in 2023
3 Best Anime Gacha Games in 2023
5 Best Multiplayer Anime Games 2023
3 Best Anime Games Online in 2023
3 Best PvP Anime Games 2023
3 Best Anime Co-Op Games 2023